Our Standard Abrasives™ Quick Change Zirconia Resin Fiber Disc achieves a fast, sharp cut for weld blending, grinding, deburring, and finishing applications on most metals, including ferrous metals and exotic alloys. Designed for smaller surfaces, this quick change disc saves time between grades. The stiff fiber backing enables extended use under medium to high pressure.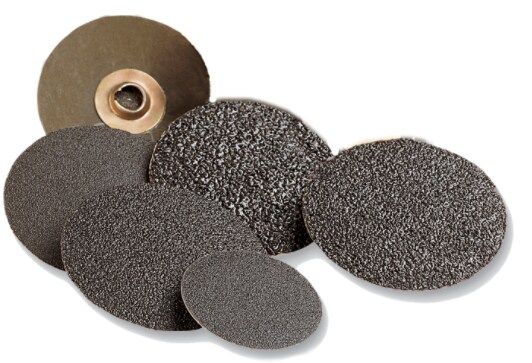 For removing imperfections, gates, risers and parting lines on steel
Versatile Performance for Mid-Range Applications
When it comes to removing welds and imperfections or blending and finishing smaller surface areas, our Standard Abrasives™ Quick Change Zirconia Resin Fiber Disc offers excellent performance. Use this hard-working disc for aggressive removal of burrs, imperfections, gates, risers and parting lines.
The Benefits of a Quick-Change System
We offer this disc in a range of sizes, grades and quick change sanding systems. Quick change discs allow tool-free swap outs, maintain secure attachment at high speeds, and save operators time when switching discs between grades or applications.
Choose the disc compatible with your TS, TSM, or TR holder pad. A TS disc has a threaded hole that easily twists onto the threaded button of a TS holder pad, and a TSM disc has an asymmetrical metal hub that requires just a short twist to securely lock onto a compatible holder pad. A TR disc is designed with a nylon threaded hub that easily mounts to a TR or 3M™ Roloc-type holder pad with a turn of the wrist.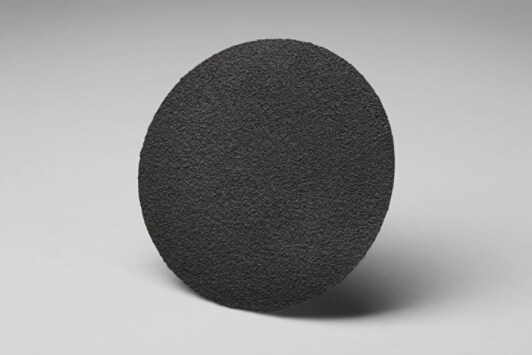 A versatile alumina zirconia Roloc™ Disc constructed on a fiber backing
Heavy-Duty Disc Stands up to High Pressure
We construct this disc with a substantial 30 mil fiber backing and resin-bonded abrasive to provide the rigidity and durability needed for stock removal and weld leveling. In industrial environments where prolonged use is essential, fiber discs offer extended performance.
Zirconia Mineral Provides Extra Fast Cut and Versatility
Alumina zirconia fractures frequently to continually produce sharp points and deliver a faster cut-rate than aluminum oxide. A synthetic mineral, it was developed for heavy stock removal and high pressure grinding. It can be used on a variety of metals including ferrous and non-ferrous alloys, stainless steel, aluminum, and cobalt.
Using a Fiber Disc
Fiber discs are heavy-duty discs ideal for weld removal, grinding, and blending large and small areas of metal surfaces. They feature a tough, stiff backing made from vulcanized fiber that resists wear and can handle tough grinding applications.
For optimal performance, the disc should be used with a holder pad of the appropriate density for the application—a lighter density holder pad for fine grade grinding applications, and a harder density holder pad for coarse grade grinding applications. Using the correct holder pad for the application ensures that the abrasive mineral will continually re-sharpen, maximizing the life of the abrasive.
Learn more about Standard Abrasives™ Resin Fiber Discs
(PDF, 10 Mb)
Quality Standard Abrasives™ Products for Industrial Applications
The Standard Abrasives™ brand has supplied quality abrasives to the metalworking industry for over 50 years. Customers rely on our broad offering of high performance products including coated, bonded, and non-woven abrasive lines.
Learn more about Standard Abrasives™ Products
(PDF, 2.9 Mb)