Suitable for removing imperfections, gates, risers, and parting lines on ferrous or exotic metals such as super alloys, high-strength stainless steel and cobalt
Premium zirconia alumina grain provides durability and faster, more aggressive cutting action than aluminum oxide
Stiff, 30 mil fibre backing supports stock removal and medium to high-pressure weld leveling
Heavy backing and resin bond provide superior grain support for prolonged operations
7/8˝ center hole disc mounts to a right angle grinder
Standard Abrasives™ Zirconia Resin Fibre Disc works well for weld blending, grinding, deburring, and finishing applications on most metals, including stainless steel and aluminum. It achieves a fast, sharp cut and provides tough durability for medium pressure applications on larger areas of the workpiece. The stiff fibre backing and heat-resistant bond enables extended use under pressure.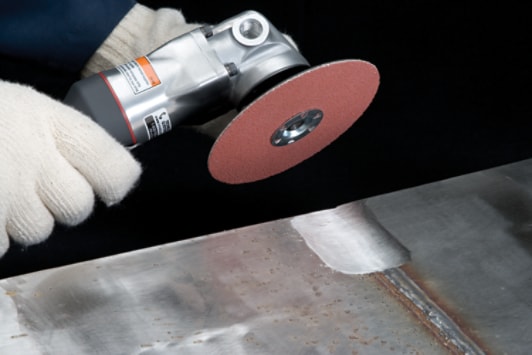 Standard Abrasives™ Resin Fiber Discs resist loading and have a high cut rate
Using a Fiber Disc
Fiber discs are heavy-duty discs ideal for weld removal, grinding, and blending large and small areas of metal surfaces. They feature a tough, stiff backing made from vulcanized fiber that resists wear and can handle tough grinding applications. Fiber discs with a 7/8" center hole are mounted onto a right angle sander. They are secured to a holder pad with a compatible
disc retainer nut
(sold separately).
For optimal performance, the disc should be used with a holder pad of the appropriate density for the application—a lighter density holder pad for fine grade grinding applications, and a harder density holder pad for coarse grade grinding applications. Using the correct holder pad for the application ensures that the abrasive mineral will continually re-sharpen, maximizing the life of the abrasive.
Our Standard Abrasives™ Zirconia Resin Fiber Disc is a good choice for medium or high-pressure applications. This center hole disc comes in coarse grades and is also available in smaller sizes with a
quick-change attachment
(sold separately). For maximum durability and disc performance rate, we recommend a
Standard Abrasives™ Holder Pad
for attachment to a right angle grinder.
See More 3M™ Abrasive Accessories
(PDF, 4.29 Mb)