3M™ Ceramic Abrasive Grain is engineered for exceptional durability and cutting capability on carbon steel and tool steels, boosting productivity and reducing worker fatigue
Attachment system allows for efficient install and removal of the disc, without hindering the disc's performance or durability
Heavyweight backing is extremely durable for high-pressure, high-speed applications
Durable resin bond resists deterioration from heat, extending the life of the disc
3M™ Roloc™ Disc 963G provides a quick attachment and features 3M's highest-performing ceramic abrasive grain on a durable polyester blend backing for outstanding durability and cutting efficiency on carbon steel and tool steels. The 963G disc offers significant productivity gains for applications such as rapid stock removal, grinding, blending, and deburring on steel.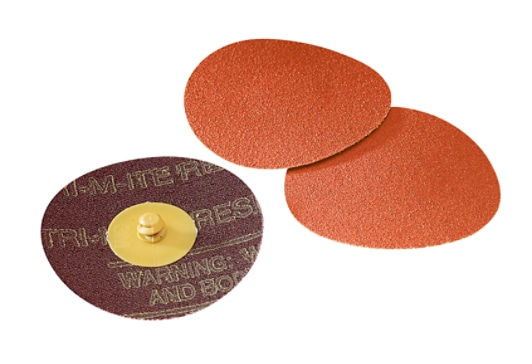 Designed for High-Pressure Applications
Our 3M™ Roloc™ Disc 963G features heavyweight backing that supports high-pressure applications and a consistent cut-rate, and is resin-bonded to withstand high heat and pressure. The 963G disc can be used wet or dry.
3M™ Science, Applied to 3M Ceramic Abrasive Grain
We use a proprietary 3M™ Ceramic Abrasive Grain that is a ceramic mineral chemically engineered with a unique "stay sharp" crystalline structure, which continually reveals fresh cutting edges on the surface of the work piece ensuring a sustained cut. The grain is formed using a process to enhance toughness and hardness of the grain, for long product life and significant productivity benefits. Abrasives made with 3M ceramic abrasive grain have outstanding durability and improved cutting efficiencies. These products have a long service life, cut exceptionally fast and can stand up to high pressure production environments even on the toughest materials.
Roloc™ System Enables Quick Tool Attachment
3M™ Roloc™ Disc 936G is available for use with the following Roloc attachment systems: TR, TP and TS. Please select discs with the attachment design made for your system