Thick, high density disc contains 25% more material than standard flap discs to deliver longer life and fewer disc changes
Flap construction achieves single-step grinding and blending and may replace grinding wheels and fiber discs
Flaps produce a smooth finish and resist gouging
Ceramic Pro grain cuts through metal faster than standard ceramic and accelerates throughput
Grinding aid promotes efficient cutting on stainless steels and nickel alloys, which keeps workpiece temperatures at a minimum
Overlapping layers extend durability for prolonged use in industrial operations
Poly-cotton is ideal for a variety of tasks, excelling in medium-pressure applications
Constructed with 25% more material than our standard flap discs, our Standard Abrasives™ Ceramic Pro HD Flap Disc is our highest performing, longest lasting flap disc. It cuts exceptionally fast on low to medium-high pressure application and runs cooler on stainless steels and high nickel alloys. Tough, overlapping poly-cotton flaps won't fray with edgework and produce a smooth finish.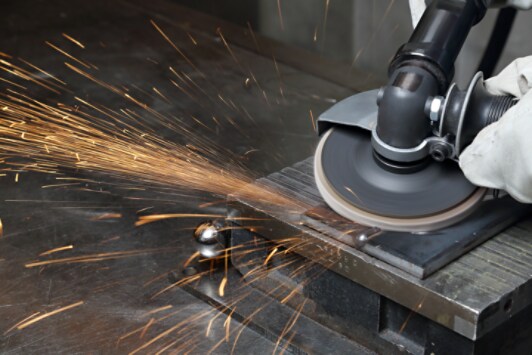 More Cutting Power Means Increased Production
Achieves Aggressive Cut with Smooth Finish, Resists Gouging
A workhorse for metal fabrication, the Standard Abrasives™ Ceramic Pro HD Flap Disc achieves fast, aggressive stock removal without compromising finish. It is ideal for a wide range of low to medium-high pressure applications, especially in paint prep and stainless steel fabrication where finish and gouge resistance are important. A grinding aid on the disc reduces grinding temperatures for best results and extended disc life in operations on stainless steel and nickel alloys.
Long Lasting, One-Step Grinding and Blending
The overlapping layers of coated abrasive cloth flaps make this disc flexible, long lasting, sharp cutting, and a great choice for one step grinding and blending. In many instances it can replace grinding wheels and fiber discs, making it an advantageous addition to machine shops and body shops.
Compared to a grinding wheel, a flap disc cuts cooler, works faster, and is more user-friendly. Moreover, the flexibility of the flaps also reduces vibration and produces smoother results, which means the disc is easier to control and causes less operator fatigue, while maintaining a superior finish, grade for grade.
A flap disc often outlasts a fiber disc while still providing an aggressive cut, so you can count on replacing it less often, which saves time and reduces consumables. It produces a smoother, more consistent finish, and won't curl up in storage as fiber discs sometimes do. Choose one grade coarser than the fiber disc you would typically use for your application for comparable results.
Disc Workhorse Offers Great Versatility
When faster output is the bottom line, you will appreciate the value of our
Standard Abrasives™ Ceramic Pro HD Flap Disc
(PDF, 2.1 Mb), with greater thickness for even longer life than our standard Ceramic Pro disc. Use it to:
Make quick work of rust or other contaminants
Rapidly smooth out welds, beads and burrs
Knock down sharp edges
Perform minor material shaping
Strip paint off of metal
Level auto body filler
Touch up welds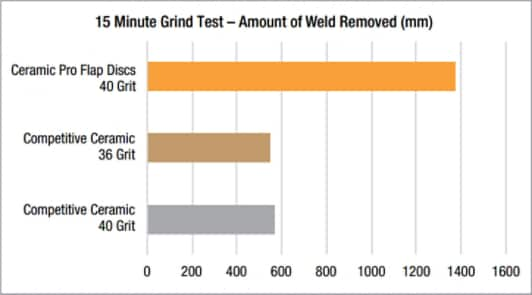 The New Standard of Grinding Power and Performance
Choosing a Flap Disc
We engineered
Standard Abrasives™ High Density (HD) Flap Discs
(PDF, 2.4 Mb) with the industrial operator in mind — packed with 25% more abrasive muscle, they deliver exceptional cut and life. High density discs are thicker than standard flap discs due to their wider flaps, and therefore last longer and require fewer interruptions for disc changes.
Variations in mineral type, backing and disc shape enable efficient abrasive solutions. By pairing the right flap disc with your unique application you ensure peak performance and market-leading value. We offer HD discs in three material types (each sold separately):
Zirconia AP: Versatile disc performs well when you need one disc for a variety of applications; poly-cotton backing, well-suited for medium-pressure applications
Zirconia HP: More durable backing supports high pressure grinding such as beveling, deburring and edge chamfering; grinding aid for stainless and high nickel alloys; polyester backing
Ceramic Pro: Fastest cutting; grinding aid, ideal for stainless steel and high tensile alloys; poly-cotton backing, well-suited for medium-pressure applications
Designed for use on a right angle grinder, HD flap discs have either a Type 27 or Type 29 profile:
Type 27 Flat: Flaps are flush with a flat surface and ideal for generating a smooth finish on flat areas or outside edges
Type 29 Conical: Flaps are angled to provide more aggressive cutting action, ideal for stock removal and faster results on both edge work and flats.

Type 27 (top) Type 29 (bottom)