Flap discs allow one-step grinding and blending, saving time and cost
Alumina zirconia self-sharpens, provides extended life and more cutting power than aluminum oxide, reducing replacement costs
Flexible, X-weight cotton backing supports fast cut on light duty grinding and finishing applications
Resin bond prevents heat from weakening the abrasive and its adherence to the backing
3M™ Flap Disc 546D provides a system for low-pressure grinding, small weld removal, finishing, and surface preparation with just one disc. The one-step alternative to bonded wheels and fiber discs, these discs run fast enough for stock removal but provide cushioning with the flaps for a soft finish.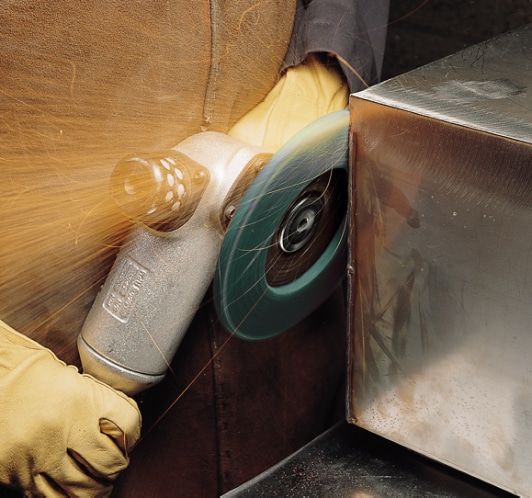 3M™ Flap Disc 546D features self-fracturing alumina zirconia abrasive with a superior cut-rate to aluminum oxide, and versatile performance on many metal types. It is made with an X-weight cotton backing that supports a fast cut for light duty grinding and finishing and is resin-coated for heat resistance.
Flap discs can be easily adapted to most right angle grinders and typically provide a finish one grade finer than they are graded.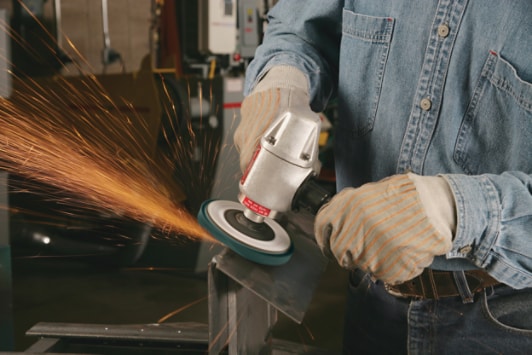 Flap discs are three-dimensional grinding discs with overlapping layers that fan out from a central hub. These abrasive-coated, fiber-reinforced flaps continually wear away with use to expose fresh mineral for a fast, consistent cut. Under normal conditions, flap discs will generate a finish that is one grade finer than the finish of a fiber disc of the same grade. The closed coat on 3M™ Flap Disc flap disc 546D means that the abrasive particles are tightly configured on the backing, resulting in maximum cut and finish consistency on metal. And, because their overlapping construction allows more abrasive material to be loaded onto the cutting surface, they far outlast typical discs. Flap discs are ideal for a wide range of applications, including grinding of small welds, deburring, rust removal, edge grinding, and weld seam blending.