2-inch diameter, 36 grit disc quickly and easily strips paint and rust from hard to reach places
Aluminum oxide abrasive offers fast cut and increased durability
Versatile discs work on metal, plastic, and fiberglass panels
Fits most standard drills and air tools, eliminating the need to purchase new equipment
Convenient 3M™ Roloc™ attachment system offers quick and easy disc change-out for multi-step finishing processes
3M™ Green Corps™ Roloc™ Disc combines a durable disc with the efficiency of the 3M™ Roloc™ quick-change attachment system for an effective disc that strips paint and rust from metal, plastic and fiberglass, especially in hard to reach places.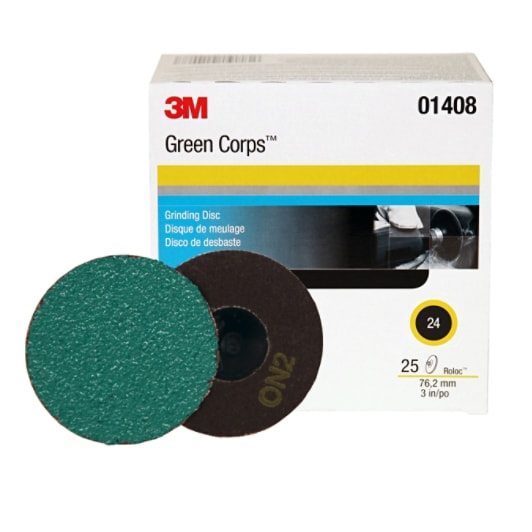 Green in color with a durable cloth backing
Knowing that productivity is a top concern for professional technicians, we made our 3M™ Green Corps™ Roloc™ Disc to work quickly to save you time and labor. They are ideally suited for stripping paint and rust, but also useful for clear coat applications, grinding, shaping plastic filler and putty, deburring, weld removal, and prep work on metal, plastic, and fiberglass substrates. You are ensured a thoroughly cleaned surface to help achieve optimal painting results with a smooth application and good adhesion. These 2 inch discs are perfectly sized for hard-to-reach areas.
Our 3M™ Roloc™ quick change discs have a metal central hub on the backing that requires just a short twist to securely lock onto a compatible disc pad (sold separately) so that operators can conveniently change discs with a simple twist-on, twist-off motion.
Our Green Corps™ abrasive is comprised of aluminum oxide mineral for increased sandpaper disc life and faster cut-rate. Aluminum Oxide discs are a good match for operators who desire an all-purpose versatility and economy. The mineral cuts fast while grinding, blending and deburring and should be used for low pressure applications on ferrous metals and composites. Aluminum oxide discs feature a premium grain with higher fracture strength, meaning the mineral will fragment and renew more readily. These discs may be used on ferrous metals, non-ferrous metals and composites.