Well-suited for high pressure grinding and deburring operations on carbon and stainless steel, and effective on aluminum
Durability of zirconia mineral makes it a better choice for rapid stock removal
Y-weight 2-ply backing adds stiffness and extends performance life
Choose from TP, TR, and TS quick change attachment styles
Smaller discs with secure attachment enable high-speed grinding on small surfaces
Our Standard Abrasives™ Quick Change Zirconia 2-Ply Disc is an excellent choice for rapid stock removal on ferrous metals, stainless steel, and aluminum. The secure quick-change attachment runs these smaller discs at high speed. The reinforced Y-weight backing resists shredding under the demands of grinding and deburring to ensure maximum use of the disc until the abrasive is worn.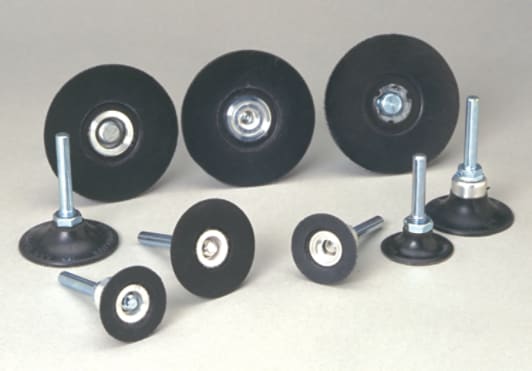 For best results, use with a Standard Abrasives holder pad, sold separately
Choose from TP, TR, and TS Quick Change Attachment Styles
We offer our Standard Abrasives™ Quick Change Zirconia 2-Ply Disc in a range of sizes, grits and quick change sanding systems. Quick change discs allow tool-free swap outs, maintain secure attachment at high speeds, and save operators time when switching discs between grades or applications. Choose the disc compatible with your TP, TR, or TS holder pad. The TP system features a snap-on/snap-off nylon fastening hub. TR discs have a nylon threaded hub that easily mounts to TR or 3M™ Roloc™ type holder pads with a turn of the wrist, and the TS system has a metal hub that attaches to its holder pad with a simple twist.

Alumina Zirconia Excels at Heavy-Duty Operations
Alumina Zirconia fractures frequently to continually produce fresh sharp points and delivers a faster cut-rate than aluminum oxide. A man-made mineral, it was developed for heavy stock removal and high pressure grinding. Our zirconia disc is also available in a PSA version in larger sizes (sold separately). The versatile portfolio of Standard Abrasives™ Discs helps to ensure that operators will find a disc that is well-suited to their project needs and applications.

Quality Standard Abrasives™ Solutions for Industrial Applications
The Standard Abrasives brand has supplied quality abrasives to the metalworking industry for over 50 years. Customers rely on our broad offering of high performance products including coated, bonded, and non-woven abrasive lines.

Quality choices mean greater performance, more convenience and more value
Mineral
Good
Better
Best
A/O

A/O
Extra
Silicon
Carbide
Zirconia
Pro
Ceramic

Ceramic
Pro
MRO
•
•
Grind
•
•
•
•
•
•
Heat-Sensitive
•
•
•
•
Deburr
•
•
•
•
•
•
Blend
•
•
•
Finish
•
•
Ferrous
•
Non-Ferrous
•
Aluminum
•
•
•
High Nickel/Chrome/Alloys
•
•
Stainless Steel
•
•
•
Titanium
•
•
Composites
•
•
Pressure Applications
Low
Low
Low
Med-High
Highest
Highest