A great disc for cool grinding on heat-sensitive metals
Extremely durable ceramic grain can stand up to repeated wear
Ideal for prolonged stock removal due to durable fibre backing
Swiftly removes heavy flash and parting lines on castings
Features a grinding aid that reduces heat, glazing, loading and stripping
Our Standard Abrasives™ Ceramic Resin Fibre Disc runs cool during rapid stock removal on heat-sensitive metals: stainless steel, aluminum, high nickel alloys and titanium. For these reasons, it's great for grinding, deburring and finishing – especially where heat stress is a concern.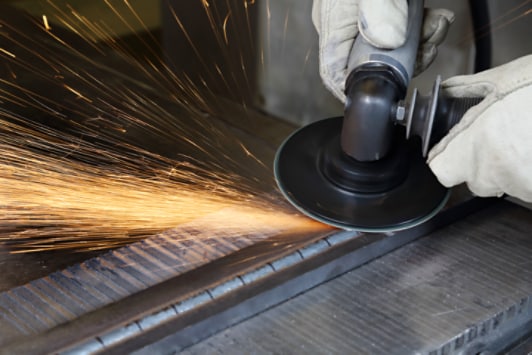 Best disc for cool, rapid stock removal on heat-sensitive metals
A Remedy for Unwanted Burrs and Flash
Standard Abrasives™ Ceramic Resin Fiber Disc is made with ceramic grain, one of the toughest synthetic minerals. This mineral is extremely durable, tough and wear resistant. With the incorporation of a grinding aid, this product cuts cooler and reduces the risk for loading and part discoloration that results from heat. Our Standard Abrasives™ Ceramic Resin Fiber Disc is a remedy for stubborn burr and flash removal, because it cuts swiftly and aggressively. Similarly, it's great for weld removal on fabricated stainless steel, carbon steel and parting line removal on castings.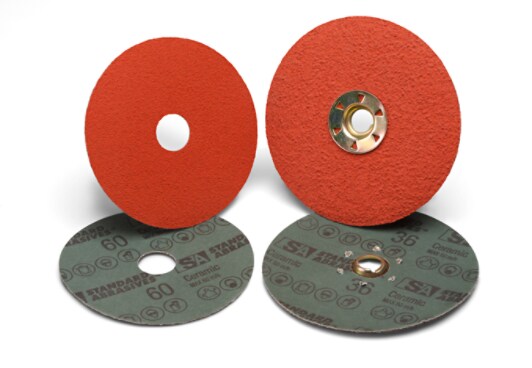 A heavy fiber backing offers superior grain support
Beat the Heat
We engineer the Standard Abrasives™ Ceramic Resin Fiber Disc by securely anchoring ceramic mineral to a fiber backing with a resin bond. Considered a heavy-weight backing, fiber is extremely tough. A strong fiber backing combined with a tough resin bond enhance overall product durability, which reinforces its suitability for heavy-duty applications like grinding and deburring.

Our Ceramic Resin Fiber Disc also has a grinding aid which interacts with the mineral and the metal to prevent capping and dulling of the mineral, therefore maintaining cutting efficiency which equals a cooler workpiece. Similarly, the grinding aid minimizes the possibility of stripping the surface or removing the original luster by way of heat.

Often, users who work with heat-sensitive metals seek cool-running abrasives. When faced with the challenge of stock removal, users need an abrasive that can endure heavy-duty grinding. General grinding is one of the best industrial applications for our Standard Abrasives™ Ceramic Resin Fiber Disc, because the abrasive contains just the right ingredients — tough ceramic mineral, strong fiber backing, durable resin bond — to finish the job.