Flaps offer single-step grinding and blending and may replace grinding wheels and fiber discs
Flap construction leaves a smooth finish and resists gouging
Zirconia GP material is ideal for low pressure applications
Overlapping layers extend durability for prolonged use in industrial operations
Cotton backing resists tearing or fraying
Phenolic resin plate provides cushion effect for optimal blending and dampens vibration, reducing operator fatigue and tool wear
Constructed for low-pressure cleaning, surface prep, and finishing, our Standard Abrasives™ Zirconia GP Flap Disc features extra-sharp alumina zirconia mineral on durable cotton flaps. The overlapping cloth flaps provide extended durability and progressively reveal fresh ceramic mineral for continuous sharp cut as the flaps wear away, leaving a smooth finish.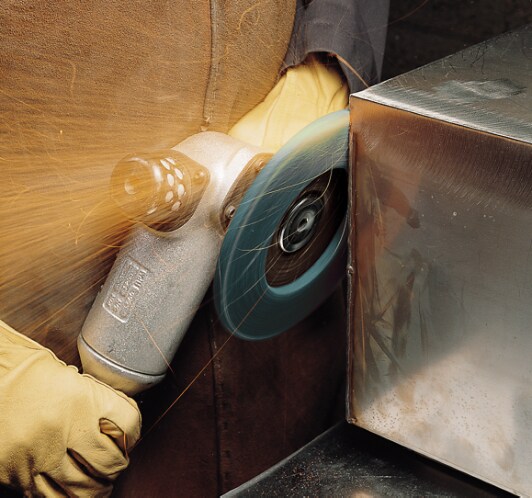 Best for aggressive stock removal on a variety of welds, coatings and other metal fabrication applications
Disc Workhorse Offers Great Versatility
A Standard Abrasives™ Zirconia GP Flap Disc provides an effective solution for many different operations. Use it to:
Remove rust or other contaminants
Touch up welds
Smooth out beads and burrs
Remove splatter
Strip paint off of metal
Level auto body filler

A flap disc may also be used for paint prep on wood, although it won't leave the same smooth finish it achieves on metal.

Choosing a Flap Disc
We engineered Standard Abrasives™ Flap Discs with the industrial operator in mind — they deliver exceptional cut and long life. Variations in mineral type, backing and disc shape enable efficient abrasive solutions. By pairing the right flap disc with your unique application you ensure peak performance and market-leading value. We offer discs with five designations (each sold separately):
Zirconia GP: Ideal for low pressure grinding on flat surfaces such as weld touchups and surface prep; cotton backing
Zirconia AP: Versatile disc performs well when you need one disc for a variety of applications; poly-cotton backing
Zirconia HP: More durable backing supports high pressure grinding such as beveling, deburring and edge chamfering ; grinding aid for stainless and high nickel alloys; polyester backing
Ceramic: Faster cut than Zirconia on high-pressure applications; cool cutting action reduces loading risk and discoloration; grinding aid for stainless and high nickel alloys; cotton backing
Ceramic Pro: Fastest cutting; grinding aid, ideal for stainless steel and high tensile alloys; poly-cotton backing

Designed for use on a right angle grinder, flap discs have a Type 27 or Type 29 profile.
Type 27 Flat: Flaps are flush with a flat surface and ideal for generating a smooth finish on flat areas or outside edges
Type 29 Conical: Flaps are angled to provide more aggressive cutting action, ideal for stock removal and faster results on both edge work, flats and contours

Quality Solutions for Industrial Operations
The Standard Abrasives™ brand has supplied quality abrasives to the metalworking industry for over 50 years. Customers rely on our broad offering of high performance products including coated, bonded, and non-woven abrasive lines.

Learn more about Standard Abrasives™ coated, bonded & non-woven products (PDF, 2.94 Mb)