3M™ Flap Disc 747D is a ceramic grain abrasive flap disc with a durable, X-weight cotton backing for working with stainless and carbon steels. Designed to run on a right angle grinder, a flap disc is a one-step alternative to bonded wheels and fiber discs. A unique grinding aid minimizes heat while maintaining life on heat sensitive alloys such as stainless steel.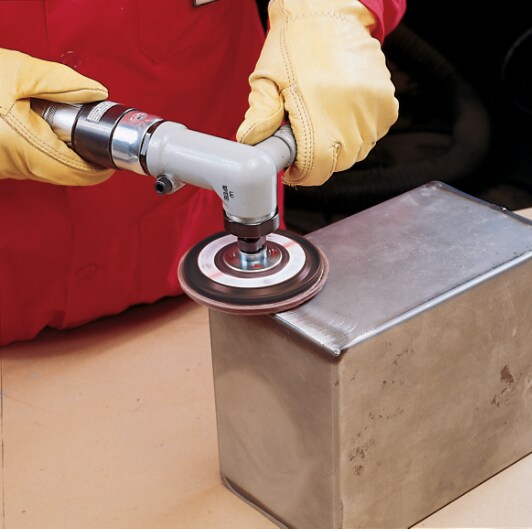 3M™ Flap Disc 747D is an excellent option for stainless steel finishing
Flap Discs Do Double Duty
Grind and finish in a single step with the 3M™ Flap Disc 747D. Flap discs provide the stock removal capabilities of a bonded wheel with the surface finishing characteristics of a resin fiber disc.
Lower cost per grind and fewer process steps in applications such as weld grinding, deburring, rust removal, edge grinding, and weld seam blending make our flap disc desirable when it's an option.
Learn more about Metalworking solutions.
(PDF, 12.95 Mb)
Our 3M Flap discs exhibit lower gouge potential than that of grinding wheels and fiber discs. Operators prefer the discs because they are lighter in weight and easier to control. And because they do double duty, there is less downtime to change product. Also, less vibration and noise mean less operator fatigue.
While these flap discs are particularly suited to working with stainless steel, their versatility allows them to work effectively on other metals as well.
Learn more about 3M™ Abrasives and Power Tools for Stainless Steel Finishing.
(PDF, 845.2 Kb)
Overlapping Flaps Use All the Abrasive Grain
We attach a series of abrasive cloth flaps to a backing in a fan-like arrangement around a hub. The working mineral is consolidated on the edge of the disc so a maximal amount of the working material is utilized. As the flaps wear during use, new cutting grain is continually exposed to the work surface, so they can far outlast typical discs.
By reducing steps and lasting longer, our flap discs can greatly improve productivity in grinding operations.
Quick-Change Attachment System
The 747D quick-change flap disc features a TN-style attachment system. Screw the old disc off and the new one onto the shaft of your right angle grinder with two or three swift twists. Less time lost to change-over means more producing material.
3M knows efficiency is key to your operations. We leverage a broad platform of technological expertise to build solutions to keep your business and your employees working smoothly.