3M™ Ceramic Abrasive Grain offers exceptional performance in high pressure applications
Ceramic grain cuts more efficiently, reducing operator fatigue
Stiff fiber backing stands up to heavyweight applications such as high-pressure beveling
Resin bond withstands heat and stabilizes the disc under pressure and heat
7/8 inch center hole mount is compatible with 3M™ disc pad face plates and hubs
3M™ Fibre Disc 983C offers an fast cut and extreme durability for high-pressure carbon steel applications by combining 3M™ Ceramic Abrasive Grain with a stiff fiber backing. Designed for both long life and superior performance in aggressive, heavy-duty applications, ceramic fiber discs minimize edge wear, enhance productivity, and reduce material consumption.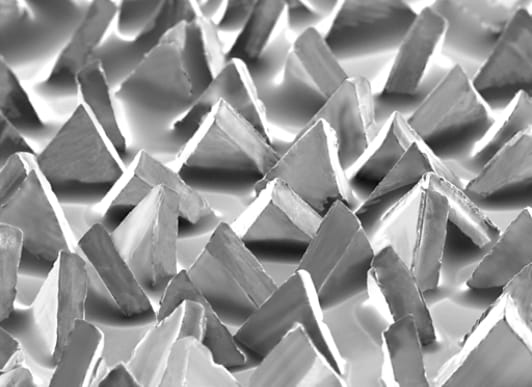 3M precision-shaped grains stay cooler, cut faster, and last longer
The Many Benefits of 3M™ Ceramic Abrasive Grain
Choose 3M™ Fibre Disc 983C for high-pressure weld leveling and beveling. The disc is resin-bonded to withstand high heat and pressure in demanding applications. 3M™ ceramic grain exceeds conventional abrasives in durability, disc life, and cut-rate, offering greater throughput in less time. Additionally, less pressure is required to achieve maximum performance, in turn reducing operator fatigue and extending tool life. 3M™ Ceramic Abrasive Grain is a 3M proprietary ceramic mineral formed using a process to enhance toughness and hardness of the grain. It is chemically engineered with a unique "stay sharp" crystalline structure, which continually self-sharpens cutting edges on the surface of the disc, ensuring extended high performance in high pressure production applications.
Heavy-Duty Discs Ideal for Weld Removal, Grinding and Blending
Fibre discs are heavy-duty discs ideal for weld removal, grinding, and blending large and small areas of metal surfaces. They feature a tough, stiff vulcanized fibre backing that resists wear and can handle tough grinding applications. Fiber discs with a 7/8 inch center hole are mounted onto a right angle grinder. They are secured to the
disc pad hub
and
face plate
with a compatible
disc retainer nut
(all sold separately).
Tips for Optimal Use
For optimal performance, experts recommend that the disc be used with a face plate of the appropriate density for the application—a lighter density face plate for fine grade applications, and a harder density face plate for more coarse grade grinding applications. Using the correct face plate for the application ensures that the abrasive mineral will re-sharpen, maximizing the life of the abrasive.
Find More Industrial Products for Metalworking
(PDF, 73.23 Mb)