3M™ Ceramic Abrasive Grain is our toughest and fastest-cutting abrasive grain, for long life and increased throughput
3M™ Stikit™ backing provides easy application and removal, and a liner prevents dust and debris from contaminating the adhesive
Light, J-weight cloth combines wear-resistant backing with flexibility ideal for both flat and contour sanding
Static resistant coating and open coat feature helps prevent buildup of dust particles to enhance cut-rate and productivity
Versatile disc performs well on aluminum, fiberglass, gelcoat, hardwood, metal, softwood and solid surface
3M™ Stikit™ Cloth Disc 900DZ features high-performing 3M™ Ceramic Abrasive Grain with a static-resistant, open coat on a flexible adhesive backing for exceptional sanding performance on both contoured and flat surfaces. The open coat abrasive provides a more aggressive cut than a comparable closed coat abrasive of the same grade and is well-suited when loading is a problem, prolonging disc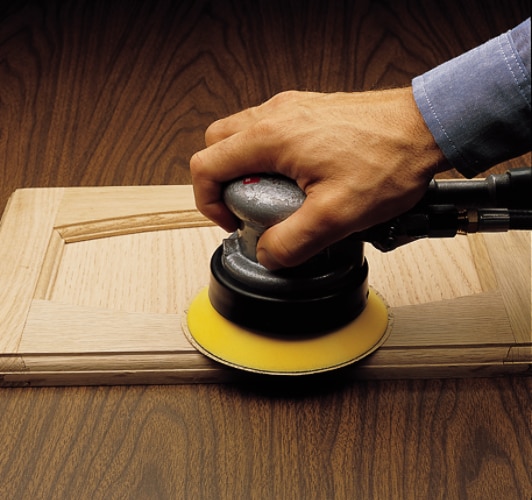 We applied a static resistant coating on the disc to provide additional dust control needed for sanding some wood surfaces. The disc is resin bonded for heat-resistance. Choose the 3M™ Stikit™ Cloth Disc 900DZ disc to improve productivity for tough sanding jobs on aluminum, fiberglass, gelcoat, hardwood, metal, softwood and solid surfaces.
Our 3M™ Ceramic Abrasive Grain is a 3M proprietary ceramic mineral chemically engineered with a unique "stay sharp" crystalline structure, which continually reveals fresh cutting edges on the surface of the work piece ensuring an exceptionally fast and sustained cut. Formed through a process to enhance toughness and hardness of the grain, 3M™ Ceramic Abrasive Grain offer a longer service life than non-ceramic abrasives, and can stand up to high pressure production environments even on the toughest materials. This innovative abrasive grain is ideal for use with stainless steel and whitewood sanding. These discs enable operators to do more work in less time, for significant gains in both ergonomics and productivity.
Cloth-backed discs are known for their durability and flexibility. They're a good first choice when working with metal or for heavy wood stock removal. 3M™ Stikit™ discs come ready to use with a pressure sensitive adhesive coating on the backside so that attaching them to your Stikit disc pad is as simple as pressing on a sticker. And because the adhesive is pressure sensitive, the disc can be peeled off of the disc pad just as easily, leaving a clean surface for your next disc. A convenient liner prevents the adhesive from becoming dirty and keeps the backing sticky until applied.
Learn More About 3M Abrasive Systems Random Orbital Abrasive Disc Portfolio
(PDF, 1.4 Mb)