Lightweight, powerful tool is designed for use in body shop applications
.70 HP motor delivers power for cutting through metals including high strength steel
Weighs less than 2 lbs. for maneuverability and reduced operator fatigue
Composite housing is tough and lightweight for comfort and easy handling
Designed to optimize effectiveness of 3M™ Cubitron™ II Cut-Off Wheels
The 3M™ Cut-Off Wheel Tool for Body Repair is designed for cutting quickly and smoothly through aluminum, high strength steel and other tough substrates in collision repair. It features a .70 HP motor in a tough composite housing that makes the tool very lightweight (less than 2 lbs.) and maneuverable. It is designed to optimize the performance of 3-inch 3M™ Cubitron™ II Cut-Off Wheels.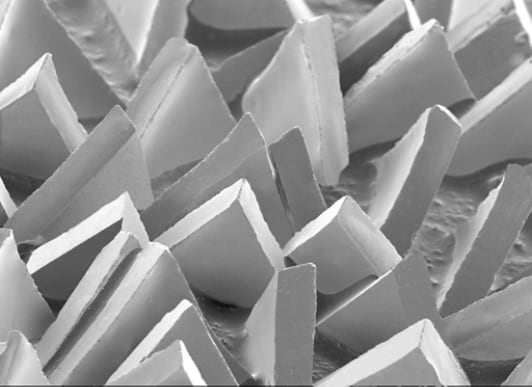 3M precision-shaped grains stay cooler, cut faster, and last longer
About Cubitron™ II Abrasives
3M™ Cubitron™ II abrasive products have raised the bar for high-performing abrasives. Engineers started with 3M™ Ceramic Abrasive Grain and used technology to electrostatically orient each triangular structure on the backing to form sharp peaks and maximize cutting potential. These peaks act like individual cutting tools that slice through metal, and continuously shelf-sharpen as the points break off, ensuring extended high performance in heavy-duty production applications. The grains wear evenly and provide extra-long life and consistency with less grinding pressure. The result is that Cubitron™ II products out-cut and outlast every conventional ceramic industrial abrasive product on the market, maximizing productivity and minimizing cut-off wheel stress and operator fatigue.
Better Science for Better Sanding from 3M
3M™ Cut-Off Wheel Tools are part of a complete portfolio of abrasives and tools specifically designed for auto repair. Their size, light weight and power for cutting tough automotive metals combine to make them an excellent example of how 3M brings out the best in automotive collision repair projects: Science. Applied to Life.TM
Learn More about Automotive Abrasives and Tools from 3M Collision
(PDF, 3.75 Mb)