Specially engineered surface conditioning disc can last up to twice as long as standard surface conditioning discs
Blending and finishing capability saves process steps and provides desired finish without sacrificing cut-rate
Versatile disc performs grindline refinement, metal blending and surface preparation
Medium, Coarse, Heavy-duty and Super-duty grades effectively condition mild and hard steels
Open web is load resistant, prolonging abrasive service life
Scotch-Brite™ SL Surface Conditioning Disc is a durable product that combines blending and finishing capability with aggressive cut. The unique open web construction resists loading while giving you an aggressive cut and long product life — on both edges and flat surfaces.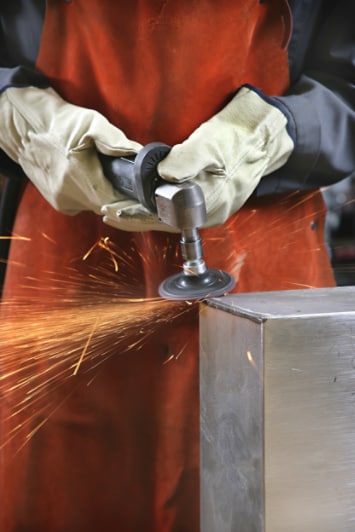 A combination of a unique web construction and formulation allow [SL discs] to resist loading, cut faster and last longer
An Aggressive Cut for Tough Applications
Scotch-Brite™ SL Surface Conditioning Disc is a highly durable product and a good starting point for light grinding and blending. Its wear-resistant qualities also make it a good match for final finishing. This versatile disc may be used on both hard and soft metals, including stainless and carbon steels. Among all Scotch-Brite™ Surface Conditioning Discs, this disc is moderately conformable and tends to be one of the more durable, tough discs. When selecting from various Scotch-Brite™ Surface Conditioning Discs, this disc should be chosen for aggressive applications.

The aggressive cut of the Scotch-Brite™ SL Surface Conditioning Disc is partly attributable to the mineral and grade. It incorporates aluminum oxide — a popular mineral choice among industrial professionals because of its high cut-rate, hardness, strength and low heat retention. Grades include: super-duty coarse (CRS SD), heavy-duty coarse (CRS HD), coarse (CRS) and medium (MED). Choose coarser mineral grades to deliver a tougher, deeper scratch.

Swift, Easy Tool Attachment
The Scotch-Brite™ SL Surface Conditioning Disc is made with a Hook and Loop backing. Small tufts of non-woven nylon fibers are pulled through the abrasive's scrim to create loops which, subsequently, attach to the hooks on a Hook and Loop holder pad (sold separately).The hook-and-loop feature makes disc attachment, removal and re-attachment quick and easy. Hook and Loop attachment systems are great for work spaces where adhesive-backed discs may become contaminated by dust or dirt and are often used in applications where an adhesive-backed disc may be too aggressive. The hook-and-loop attachment also provides an added level of buoyancy and cushion, preventing the abrasive from gouging the workpiece. This disc may be used with a disc sander or right angle grinder.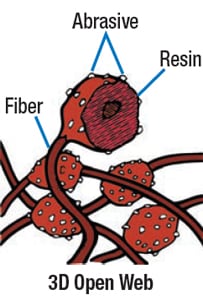 The Many Benefits of Open Web Abrasives
Nonwoven technology makes Scotch-Brite™ industrial abrasives unique. A combination of fiber strands, resin, and abrasive mineral forms a thick, open web. The spring-like nature of the fibers responds to contours and effectively removes unwanted burrs, soils, and contaminants while maintaining the geometry of the workpiece, which in turn reduces rework and boosts productivity. Gaps in the web allow swarf to escape, so debris does not clog the mineral. Fibers in the web continually break down with use to reveal fresh mineral for exceptional consistency, superior cut performance, and extremely long service life. Scotch-Brite products not only enhance productivity, but also increase operator safety from aesthetic finishing to weld blending, deburring, and more, Scotch-Brite abrasives work fast and deliver consistent results, part after part.

Learn More about Scotch-Brite™ SL Surface Conditioning Discs (PDF, 127 Kb)