3M™ Stikit™ Cloth Disc 202DZ offers the convenience of a Stikit attachment combined with the durability of aluminum oxide on a flexible cloth backing, along with static resistant coating and other load resistant features for applications where dust is a concern. 3M Stikit pressure sensitive adhesive provides ease of attachment to a random orbital sander and a clean removal.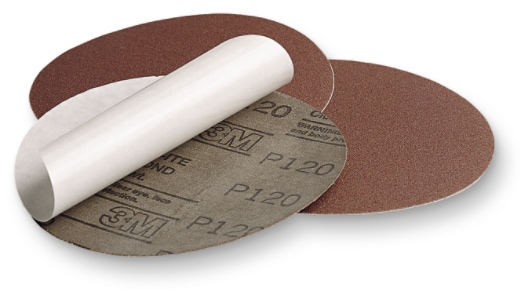 Works great on all types of wood sanding, aluminum and brass
Our 3M™ Stikit™ Cloth Disc 202DZ are lined on the back with a plastic liner to protect the adhesive from contamination until it is needed. The light-weight cloth backing offers both the flexibility and durability required for sanding a variety of contours while protecting against premature wear. Versatile aluminum oxide and a load-resistant and static resistant open coat are well-suited for many different woodworking and paint prep applications. A durable resin bond resists deterioration from heat, extending the life of the disc.
The 3M™ Stikit™ system eliminates the time-consuming task of applying your own adhesive to the disc backing. These high-quality, coated abrasive products come ready to use with a pressure sensitive adhesive coating on the backside so that attaching them to your disc pad is as simple as pressing on a sticker. And because the adhesive is pressure sensitive, the disc can be peeled off of the disc pad just as easily, leaving a clean surface for your next disc. Convenient plastic liners prevent the adhesive from becoming dirty and keep the backing sticky until the liner is peeled off for use of the disc. A Stikit disc must be pressed onto a Stikit backup pad (also called a disc pad and sold separately) that is attached to a disc sander, random orbital sander, or stationary disc sander.
We used aluminum oxide abrasive, which is a popular choice among industrial professionals because of its fast cut-rate and long life. This mineral makes a tough, durable abrasive that self-fractures to expose fresh cutting edges, whereas traditional natural abrasives dull more quickly. Due to its fast cut-rate, hardness, and strength, it is widely used in grinding applications in addition to sanding and finishing applications. Aluminum oxide is suitable for a wide variety of materials in both woodworking and metalworking, including ferrous alloys.
Heat-resistant resin is a sturdy binding agent that adheres the abrasive to the backing and maintains the stability of the abrasive grains and the bond even in conditions of high heat or pressure.
Loading occurs when wood or paint dust clogs the surface of the disc and the abrasive points, rendering the disc ineffective. Open coat construction means the abrasive grains are spaced slightly apart so that dust and debris have an outlet rather than loading the disc. Additionally, the open coat feature provides a more aggressive cut than a comparable closed coat abrasive of the same grade.
Learn more about 3M Abrasive Systems Random Orbital Abrasive Disc Portfolio
(PDF, 1.4 Mb)