Well-suited for grinding and deburring operations on aluminum, stainless steel, and composites
Durability of zirconia mineral makes it a better choice for rapid stock removal
Heavy Y-weight backing adds stiffness and extends performance life for medium to high-pressure applications
Lubricated grinding aid supports cool running on stainless steel, which helps prevent discoloration of the substrate and increases disc performance and longevity
Easy attachment and removal to holder pad saves time and effort
Specially-formulated pressure-sensitive adhesive leaves less adhesive residue on holder pad
Our Standard Abrasives™ PSA Zirconia Pro Disc performs well for grinding and deburring applications, especially when working with aluminum, stainless steel and composites.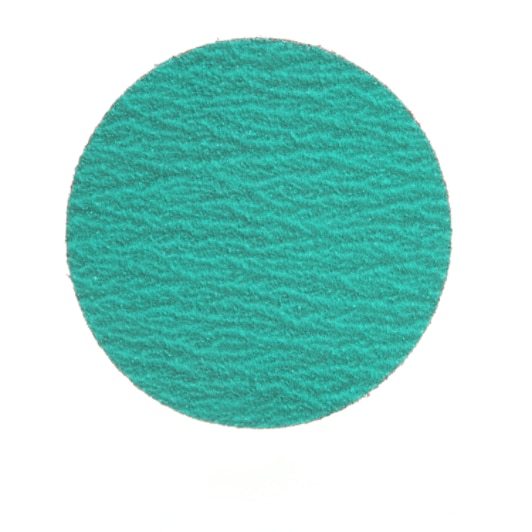 Cool running makes this disc a better choice for rapid stock removal on Stainless Steel
Rapid Stock Removal with Grinding Aid
We engineered the Standard Abrasives™ PSA Zirconia Pro Disc for rapid stock removal on medium to high-pressure applications. Its sturdy Y-weight backing provides the necessary robustness for the demands of grinding and deburring, while the grinding aid enhances cut and helps prevent part discoloration on stainless steel and other exotic alloys. We offer this disc in a range of larger sizes and grades.
PSA Attachment
Our Standard Abrasives™ PSA Zirconia Pro Disc features a specially-formulated pressure-sensitive adhesive coating on the back of the disc. Users can easily swap out discs by simply sticking them to a PSA holder pad and swiftly removing them. The special adhesive mixture leaves less residue, so operators don't have to worry about cleanup or mess. Additionally, it's pressure-sensitive, which means you just have to apply a little pressure in order for it to stick.
The holder pads for PSA abrasive discs are lightweight, flex-tested pads that reduce operator fatigue and wear on air tools, providing fast and smooth handling at high-rated RPMs. PSA discs are thin and flat, so they adhere well to the holder pad. Little space between the disc and holder pad enhances abrasive strength, directly transmitting operator pressure to the workpiece surface.
Extra Sharp Alumina Zirconia
Alumina Zirconia fractures frequently to continually produce fresh sharp points and delivers a faster cut-rate than aluminum oxide. A man-made mineral, it was developed for heavy stock removal and high pressure grinding.
Quality Standard Abrasives™ Solutions for Industrial Applications
Our Zirconia Pro disc is also available in a quick-change version in smaller sizes. The versatile portfolio of Standard Abrasives™ Discs helps to ensure that operators will find a disc that is well-suited to their project needs and applications.