Smooth face provides snag-free grinding and finishing of the workpiece
Easy-on / easy-off quick change attachment systems help enhance productivity
Accommodates each of the three Standard Abrasives™ attachment systems: TS, TR, TP
Disc pads can attach to mandrels of varying lengths to enable access to different areas of the workpiece
Available in a range of densities, pads can be tailored to meet unique project needs
Our Standard Abrasives™ Quick Change Disc Pads, also called Holder Pads, allow you to rapidly change Standard Abrasives™ quick change discs (sold separately) during multi-step projects. A wide range of sizes and densities are available, ensuring that you can find the pad(s) that best suits your specific grinding and finishing application.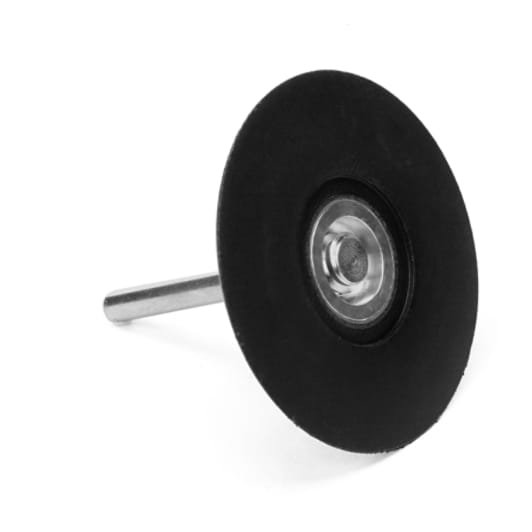 Change discs by simply twisting to unlock the disc from the holder pad
Three Attachment Types: TS, TR, TP
Standard Abrasives™ Quick Change Disc Pads come with one of three quick change attachment styles. Attachment styles include TS, TR and TP. TS is a standard metal-to-metal attachment style, TR is a 3M™ Roloc™ style nylon threaded male hub, and TP is a snap-on/snap-off nylon fastening hub. Each of the attachment styles allows easy swap out of discs with a speedy quarter turn.
More about the Quick Change Attachment Systems
(PDF, 695 Kb)
Choosing a Mandrel
Our Standard Abrasives™ Quick Change Disc Pads are available with or without mandrels. Some TS and TR holder pads come with an attached 1/4-inch diameter TA4 mandrel. Others come with an attached 6 mm diameter TA6 mandrel. TP disc holders come with the TA4 mandrel attachment only. Disc pads are also available without mandrels, so users can select a mandrel of their choice for their application. Holders without an attached mandrel feature a 1/4-20 female thread interface for mandrel attachment. Once the mandrel is attached, users typically fasten the disc pad/mandrel assembly to a rotary tool or
die grinder
.
Learn More about Standard Abrasives™
Pad Mandrels
Part No.
Description
Size
540013
440025
541034
TA 4
TA 6
—
¼" Mandrel
6 MM Mandrel
¼" Mini Track Mandrel