Pressure-sensitive synthetic rubber adhesive is specifically formulated to adhere to most surfaces, including recycled content and corrugated fiberboard cartons
Special clear backing allows high clarity and visibility of graphics and images
Designed for L-Clip closure on non-standard shipping containers (non RSC) and bundling applications
Added tensile strength reinforced tape provides cut resistance and resists tearing, breaking, abrasion, moisture and scuffs
Our Scotch® Reinforced Strapping Tape 865 is a higher strength, reinforced tape specifically formulated for L-clip applications, bundling and strapping. The reinforced polypropylene film backing features a pressure-sensitive synthetic rubber adhesive that provides high initial adhesion and holding power on a variety of metal, vinyl, plastic and fiberboard surfaces.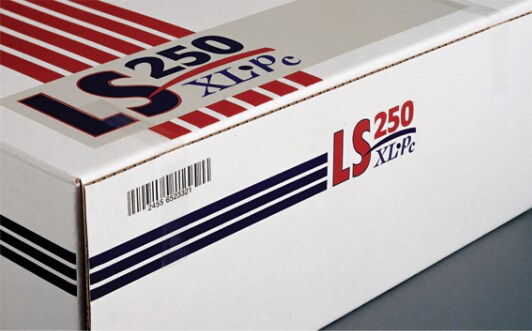 Clear backing won't obscure graphics
The Clearest High-Strength Tape Available
Our
Scotch® Reinforced Strapping Tape 865
(PDF, 13 Kb) features a unique polypropylene backing that provides added tensile strength and clarity. The tape works well for manual or semi-automatic dispensing. The versatile, synthetic rubber adhesive is formulated to provide adhesion to metallic and fiberboard surfaces and features shear strength for demanding applications. Reinforced strapping tapes are high strength, reliable and affordable solutions for L-clip applications, bundling and strapping.
Recommended Applications
L-clip closure on non-standard corrugated fiberboard shipping containers
Bundling and strapping of pipe, tube or other building materials
Box reinforcement