Thin tape provides excellent color line separation on in high-temperature paint processes
Offers excellent conformability to complex shapes, as well as curved and contoured substrates
Resists lifting around corners or in depressed areas
Withstands temperatures as high as 300ºF/149ºC for up to 30 minutes
Available in orange
Scotch® High Temperature Fine Line Tape 4735 is a highly conformable tape used to achieve sharp contrast and color separation while painting on highly contoured, curved and shaped surfaces. It has proven successful in high-temperature painting applications requiring a highly conformable tape.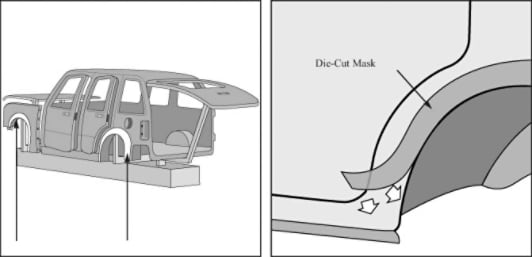 Resists temperatures up to 300°F, firmly holding under heat strain during the oven bake cycle
Recommended Applications
Paint masking for automotive fascia
Paint masking for riveted surfaces
Accomplish Sharp Color Separation with 3M Conformable and Fine Line Tapes
As a recognized pioneer and leading designer in industrial tapes, adhesives and more, 3M has developed a collection of conformable and fine line tapes suitable for the most critical paint masking applications. These tapes feature industry-leading technology in their capability to provide sharp paint lines and separate colors while preventing paint bleed and edge-lifting.