S Ultra fine grade is effective for light to moderate cleaning, satin finishing, scratch blending and deburring
Conformability to access hard-to-reach and contoured areas
Non-woven 3D structure provides long life and consistent finishes
3M™ Hookit™ quick-change system provides fast and easy disc attachment and removal
Scotch-Brite™ Hookit™ Clean and Finish Disc is a durable finishing disc that gives you effective light to moderate cleaning, scratch blending, deburring, and creating satin finishes on aluminum, stainless steel, and other metals, and is also suitable for use on plastics, wood and fiberglass.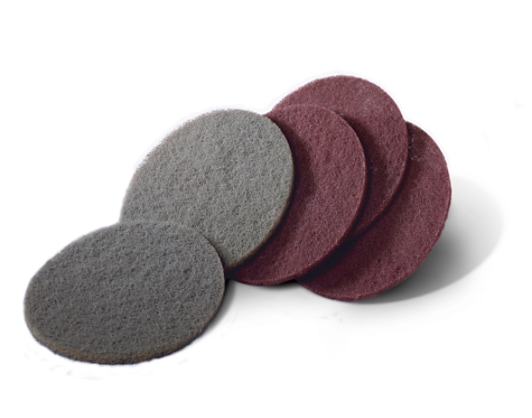 Our Scotch-Brite™ Hookit™ Clean and Finish Disc is engineered to achieve a professional finish on solid surfaces, painted panels, and other materials. Our 3M™ Hookit™ quick-change system allows fast and easy disc change-out and holds the disc securely during use. The disc conforms to irregular surfaces for a clean, consistent finish that won't undercut or damage the base material. Designed for the high RPM of power tools, Scotch-Brite™ Hookit™ Clean and Finish Disc may also be used by hand using a disc hand pad holder.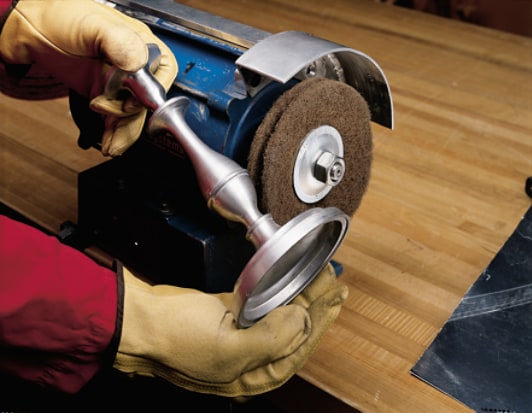 Scotch-Brite™ Hookit™ Production Clean and Finish Disc provides consistent performance and long lasting shine
This durable disc is filled with ultra-fine grade silicon carbide abrasive mineral. Silicon carbide is a synthetic mineral that is very sharp and commonly used for low-pressure applications such as paint prep. While it breaks down faster than aluminum oxide, it produces a superior finish.
Scotch-Brite™ is a unique surface conditioning product with abrasives incorporated into non-woven nylon fibers. Combining abrasives into the fibers creates an abrasive system that delivers consistent results for the life of the product. The open-web material is load resistant and keeps the abrasive minerals cutting at high performance by limiting clogging of the nylon fibers.
We offer a complete line of hook-and-loop style 3M™ Hookit™ discs for work spaces where adhesive backed discs may become contaminated by dust, dirt, or flying debris. They are often used in applications where a 3M™ Stikit™ disc may be too aggressive, as Hookit™ discs tend to leave finer finishes than adhesive backed discs. Hookit™ sanding discs conveniently and firmly attach to a hook-and-loop backup disc pad (sold separately) on a random orbital sander, can be removed cleanly and easily, and be used again and again for the extent of the abrasive life.
Learn more about Scotch-Brite™