Tough construction effectively removes rust, paint or surface coatings
Extra coarse grade silicon carbide provides aggressive cut and leaves a fine finish
Effective cleaning action provides an alternative to wire brushes
Versatile roll form can be sized according to application requirements and user preference
Load and heat resistance offers prolonged operation and consistent finishing results throughout disc life
The Scotch-Brite™ Clean and Strip Roll is ideal for applications that require an aggressive cut to clean welds and remove paint, sealant, rust or other coatings. The resin coated fibers provide rigidity for fast and effective cleaning but retain enough flexibility to conform to irregular surfaces. The open web construction resists loading and heat buildup for long-lasting utility.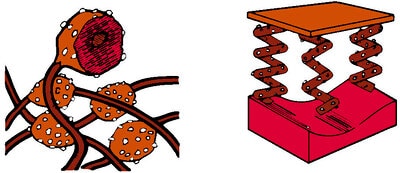 Scotch-Brite™ non-woven web technology spring action
Custom Sizing
The Scotch-Brite™ Clean and Strip Roll lets you create a custom size sheet to clean surfaces quickly and efficiently. Ideal for removing paint, sealant, or rust, the roll can be cut to size and used on solid surfaces, painted panels, and other materials.
Clean and Finish in One Step
The Scotch-Brite™ Clean and Strip Roll cleans surfaces quickly and efficiently, and is an excellent alternative to wire brushes, without leaving wire splinters behind. Extra coarse grade silicon carbide embedded in resin covered fibers not only removes rust and coatings quickly, but also leaves a satisfactory finish and may eliminate the need for subsequent finishing steps. The open web construction resists loading for long-lasting usefulness, and helps reduce smearing.
Silicon Carbide Abrasive Combines Aggressive Cut with a Fine Finish
Silicon carbide is a synthetic mineral that is very sharp and commonly used for low-pressure applications such as paint prep. While it breaks down faster than aluminum oxide, it produces a finer finish.
The Scotch-Brite™ Advantage
Nonwoven technology makes our Scotch-Brite™ industrial abrasives unique. A combination of fiber strands, resin, and abrasive mineral forms a thick, open web. The spring-like nature of the fibers responds to contours and effectively removes unwanted burrs, soils and contaminants while maintaining the geometry of the workpiece, which in turn reduces rework and boosts productivity. Gaps in the web allow swarf to escape, limiting clogging of the abrasive. Fibers in the web continually break down with use to reveal fresh mineral for exceptional consistency, cut performance, and service life. Scotch-Brite products may enhance productivity while reducing the need for cleaning chemicals and wire brushes. From aesthetic finishing to weld blending, deburring and more, Scotch-Brite abrasives work fast and deliver consistent results, part after part.