Optimized cartridge design for high contaminant reduction efficiencies and long service life in filtration of resins
Charged-modified Zeta Plus™ media provides electrokinetic adsorption of fine particulate
Durable cartridge construction allows for reliable cartridge sealing to help eliminate filter by-pass
We designed the Zeta Plus™ U Series 05U and 10U filter cartridges filter resin. Our Zeta Plus charge-modified filter media uses electrokinetic adsorption to help remove contaminants and colloid materials smaller than those removed by mechanical sieving alone.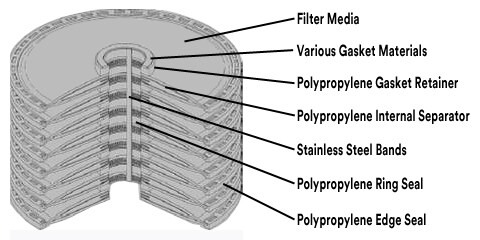 Our Zeta Plus™ U Series 05U and 10U grade filter cartridges provide reliable filtration under demanding operating conditions. Both cartridges are specifically designed to filter resin, effectively reducing contaminants through mechanical sieving and electrokinetic adsorbtion. This charge attracts small particles and deformable, or gel type contaminants, that may pass through ordinary sieve filtration cartridges. This provides contaminant reduction while helping to maintain a low system pressure and consistent flow rate. Our cartridges are available in two heights, single or double, for easy installation and removal.
Learn More about the Zeta Plus Series Filter Cartridges
(PDF, 859.9 Kb)