Permanently attaches side moldings, trim and emblems to vehicle exteriors and interiors
High strength double-sided adhesive withstands weather and impact
Easy-to-use press-on tape eliminates tools and mess
An excellent alternative to rivets
Available in several widths and lengths and cuts easily to size
Add long term value to your vehicles, quickly and easily
Our 3M™ Super Strength Molding Tape is ideal for permanently attaching side moldings and trim to your vehicles, adding long-term protection and value. Use the same elastic bonding technology employed for airplanes and skyscrapers to attach body moldings, trim and emblems to your vehicle. This tape features an extremely strong adhesive, and it's also easy to use – just pull of the liner and apply.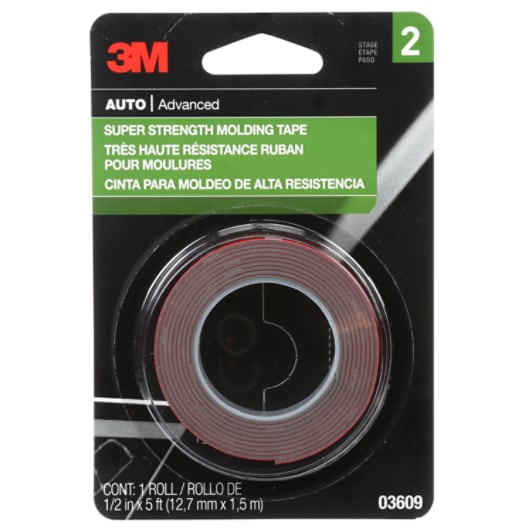 Ideal for attaching vehicle body side moldings, trim and emblems
Permanent Bond for Moldings, Trim and Emblems
Designed specifically for
auto care
(PDF, 68.63 Mb) and maintenance, our 3M™ Super Strength Molding Tape permanently attaches plastic, metal, carbon fiber and composite parts to your vehicle's painted or unpainted surfaces. You can install side body moldings, drip rail moldings or fender and wheel trim to add instant protection against door dings and other hazards. Use this high-strength double-sided tape to add value to your vehicle by quickly installing or restoring decorative interior and exterior trim or factory emblems. The tape adhesive bonds instantly and holds up to impact, moisture and solvents used in routine maintenance.
From its convenient roll, 3M™ Super Strength Molding Tape is easily measured and cut to size for your specific job. It is available in several lengths and widths and can be applied quickly and easily without tools or the mess, mixing and hassle of liquid adhesives. Simply peel off the liners to expose the adhesive, and press firmly.
The Science of Better Auto Care from 3M
Since a 3M lab assistant invented masking tape in the 1930s, 3M has been developing products to help you get the most enjoyment and value from your vehicles. Our 3M™ Super Strength Molding Tape is a great example: instantly add value and longevity to your vehicle with moldings, emblems and other components, without tools or mess. This high-strength tape is also an excellent example of what 3M does best — Science. Applied to Life. ™