2-inch size allows for added precision during gasket removal, disc brake finishing and metal polishing
Conformable, non-woven fiber construction allows for consistent cut and long disc life
Coarse aluminum oxide abrasive grains cut fast and perform well on many surfaces
Ideal for aggressive applications
Open-web construction resists loading and runs cool for consistent finishes
Our 3M™ Stripping Discs are ideal for applications requiring a long-lasting coarse grit, such as stripping paint to metal. These 2" (50 mm) stripping discs feature durable, fast-cutting aluminum oxide mineral abrasive on an open coat fiber web, suitable for all metals. These versatile discs are also ideal for specialty jobs such as metal polishing, disc brake finishing and gasket removal.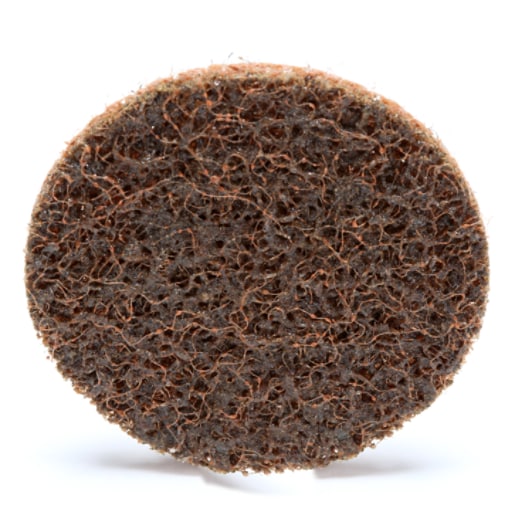 Great for gasket removing, disc brake finishing and metal polishing
Aggressive Yet Precise
For auto body jobs requiring a coarse grit abrasive, our 3M™ Stripping Discs provide an aggressive cut that translates to a consistent finish that makes subsequent auto body stages easier and less time consuming. Durable aluminum oxide mineral abrasive self-fractures during use, continually exposing fresh cutting surfaces to keep the disc sharper longer. Non-woven fibers act like tiny springs, providing superior conformity and helping preserve irregular or contoured surfaces. This combination also resists loading and reduces heat for longer disc life. And the small 2" size makes the Stripping Disc ideal for specialty jobs requiring more precision, such as finishing disc brakes, polishing bare metal and removing used gaskets from engine parts.
Learn more about Automotive Aftermarket products
(PDF, 68.63 Mb)
About Aluminum Oxide Abrasive
Aluminum oxide mineral is popular among industrial and auto body professionals because of its fast cut-rate and long life. This mineral makes a tough, durable abrasive that self-fractures to expose fresh cutting edges in use, whereas traditional abrasives quickly wear down. Due to its fast cut-rate, hardness, strength, and low heat retention, it is widely used in grinding applications as well as in sanding and finishing. Aluminum oxide is suitable for a wide variety of materials in metalworking, including ferrous alloys.
Learn more about Metalworking solutions
(PDF, 12.95 Mb)