OEM-approved film used to provide blackout appearance around automotive side glass
A substitute for paint in areas of the automotive body that are expensive or difficult to paint
Helps eliminates time and expense of paint processes and related steps
High-gloss black surface is an effective design tool for brand differentiation and visual impact
Top clearcoat adds design flexibility
Modified acrylic adhesive delivers strong final adhesion and high shear performance
Die-cut, pre-masked parts and simple dispensing tools help reduce production costs
3M™ Paint Replacement Film FTA9055J is a 6.2 mil thick (film plus adhesive), high-gloss film used to provide the blackout appearance around automotive side glass. High-gloss (90% reflectivity) black appearance and outer clearcoat integrate into vehicle designs. Black film features a modified PSA for easy application, and an air-bleedable release liner creates microchannels for reduced bubbling.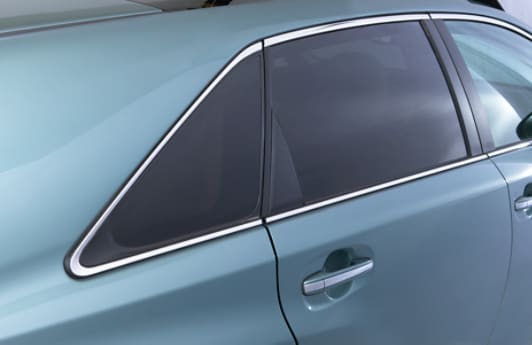 An effective design tool for brand differentiation and visual impact that meets OEM specifications
A High-Gloss, High Shear OEM Film with Clearcoat
An excellent alternative to automotive paint and paint processes, our 3M™ Paint Replacement Film FTA9055J is intended for application to a wide range of interior and exterior surfaces, such as window frames, window sashes, window extensions, body and door pillars, dashboard components and lids (metal or plastic). This durable, pliable polyolefin film resists tearing, punctures and yellowing. The 6.2 mil film features a high-gloss (90% reflectivity) black appearance and an outer clearcoat that meets stringent OEM automotive design specifications. The modified acrylic adhesive is pressure-sensitive for easy application and reduced cycle times, and delivers very high final adhesion and shear performance to a range of automotive surfaces even under extreme environmental conditions such as humidity and temperature changes. A 6.2 mil PET liner provides fast, easy release.
A Paint Replacement Film for Lower Cycle Times
3M™ Paint Replacement Film FTA9055J eliminates the paint process and cumbersome masking and de-masking, reducing reject levels and production costs. The air-bleedable feature of the adhesive layer has been designed for air bubble free application of the blackout film while still providing strong, reliable adhesion under extreme conditions of environmental stress such as climatic change and humidity cycling. The special release liner features a structured pattern which it imparts into the adhesive. This pattern creates microchannels in the adhesive, which allow air to escape at the film edges. This feature reduces the chance of bubbling, and allows for faster removal of any remaining bubbles without air release tools. This automotive paint replacement film is available in pre-masked, die-cut parts for fast, efficient application.
Recommended Applications
Window frames
Window sashes
Window extensions
Body and door pillars
Dashboard components
Metal or plastic lids
About 3M Paint Replacement Films
3M™ Paint Replacement Films are part of a global array of engineered solutions for automotive manufacturers, including project planning, training and documentation, prototype and pilot production assistance and ongoing, responsive manufacturing support. Like all 3M products for Automotive OEMs, these films — including 3M™ Paint Replacement Film FTA9055J — simplify manufacturing, streamline and sharpen design effectiveness and meet OEM specifications.
Learn more about 3M™ Paint Replacement Films
(PDF, 2.59 Mb)