Mix-on-Demand is ready off the shelf with no freezer storage required, saving time and waste
Machine mixing makes sealant ready in 30 seconds or less for increased productivity
Resists aviation fuels and chemicals commonly used throughout the aviation industry
Mix-on-Demand system creates fewer air bubbles and reduces product waste
Fast cure allows for increased throughput
No added solvents results in negligible shrinkage, sagging and less rework
What do you get when you combine a highly effective fuel tank and fuselage sealant with our revolutionary Mix-on-Demand System? Higher output, excellent tooling qualities, no thawing and a lot less product waste. 3M™ Aerospace Sealant AC-350 B-2 is an intermediate density, fast-curing, non-chromate containing polysulfide sealant with outstanding resistance to aviation fuels and chemicals.
1x Sealant Base Material
1x Catalyst Material
1x Mixing Nozzle
1x Mixing Extension Nozzle
Put a Freeze on Product Waste
Can you imagine workers not having to handle frozen sealant, waiting for it to thaw and then throwing away the unused quantities? You won't have to imagine it with 3M™ Aerospace Mix-on-Demand Sealants. And since the two components are packaged separately, the sealant provides a shelf life similar to two-part kits. But the real value is that you only mix what you need, when you need it. So if you only need a little, you only mix a little. If you need a lot, you can mix a lot. Let your need determine how much material you mix, not what's available pre-packaged.
A Sealant Triple Play — Flexible, Strong, and Time Saving
3M Aerospace Sealant AC-350 B-2 maintains its flexibility and bond strength on most metal substrates such as aluminum, titanium, steel, stainless steel, dissimilar metals and many coatings under extremes of temperature, weathering and stress. It also provides excellent adhesion to many composites and organic coatings common to the aerospace industry. We add no solvents to our formula, which gives you more useable sealant by purchase volume, compared with some competitive sealants. AC-350 B-2 can help you save production time by holding the final shape from the start because there is little or no shrinkage and sag due to solvent evaporation. Improve your assembly and process times as our sealant can be spray painted as soon as its work-life expires. We make AC-350 B-2 to be less stiff than competitive sealants, so it is easier to mix, apply and tool. All these attributes add up to higher productivity in less time. Oh, and workers may very well find greater job satisfaction when the advantages of AC-350 B-2 are combined with our 3M™ Mix-on-Demand System.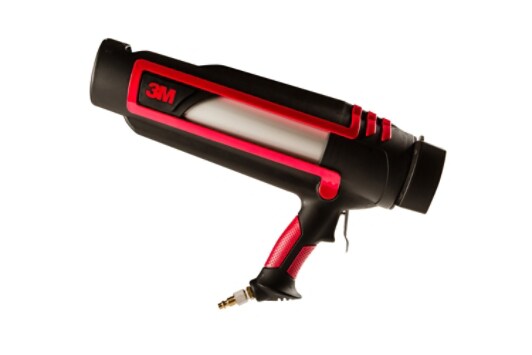 3M™ Dynamic Mixing System Applicator
The Applicator — Feel the Power
Careful, when you grab hold of the Mix-on-Demand System, you may not want to let go. Our easy-to-use device is ready when you are. Don't worry, its heavy-duty construction stands up to demanding performance, day in and day out. Pneumatically driven, it's the power tool that helps you do more — with game-changing results.
Mixing Nozzles — Air not Included
Goodbye popping, hello perfect mix ratio! Our innovative mixing nozzle blends components at a fixed ratio, ensuring a consistent end product. The secret to success with the 3M™ Mix-on-Demand System lies in the action in the dynamic mixing nozzle. Within this sealed environment, no air is allowed to enter the nozzle. The lack of air in the cartridge and mixing nozzle lets you say 'goodbye' to problematic pinholes and pops.
Cartridges — SOS! (Save our Sealant!)
Now you don't have to buy sealants knowing much of it will go to waste. By allowing you to mix only what you need when you need it, our Mix-on Demand System reduces the customary product waste you simply had to accept.
Mix-on-Demand Sealants — 3M Science Applied to Aerospace
When you use 3M Sealants, you're applying science, ingenuity, aerospace expertise and cost saving solutions. Depending on your requirements, our family of sealants provide an effective barrier against the common causes of corrosion on aluminum and between dissimilar metals. They have outstanding resistance to aviation gasoline and jet fuel, as well as resistance to chemicals, hydraulic fluids and petroleum products common to the aircraft industry. The mixed compound is a thixotropic paste, easily applied using the 3M Mix-on-Demand System. This system will prove its worth again and again when workers mix the sealant they need, when and where they need it without stopping to hand-mix, wait out the thaw, or make yet another trip to the freezer. Always read the SDS and Tech Data Sheet along with your internal governing documents prior to use.