Synthetic rubber adhesive offers a latex-free alternative
Offers the highest holding power among 3M masking tapes
Controlled unwind enables easy dispensing
Provides high performance for paint masking with high solids paints and urethane clear coats used in the transportation industry
Smooth crepe paper backing conforms and maintains integrity when formed around a corner
Backing is easy to tear resists slivering and provides one piece removal
3M™ High Performance Masking Tape 2693 is a smooth, heavy-duty, mini-crepe paper masking tape well suited to most applications where a latex-free alternative is required. It is often used in sensitive environments like healthcare facilities.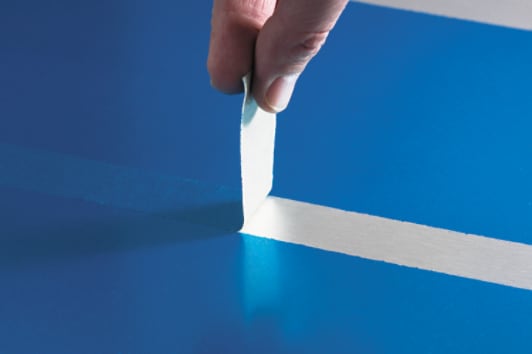 Easy and clean removal
Ideal for High Performance, High Heat Paint Masking
Our 3M™ High Performance Masking Tape 2693 performs very well in large scale paint masking applications, offering some the best holding power and heat resistance while proving to be among the easiest to unwind. It provides easy, clean removal, whether warm or cold, from most surfaces without adhesive transfer. 3M™ High Performance Masking Tape 2693 has been laboratory tested on painted steel panels and found to remove cleanly at bake temperatures up to 325°F/ 163°C for 30 minutes.
Excellent for Latex-Free Environments
We formulated 3M™ High Performance Masking Tape 2693 to provide a latex-free alternative for use in sensitive environments, such as healthcare.
Recommended Applications
General use in hospitals
High temperature, high performance painting
What is Masking Tape?
Masking tape was developed specifically to help protect surrounding surfaces from overspray, provide clean paint lines, and remove easily and cleanly when finished. Masking tapes from 3M adhere well, resist solvents or water from the paint, and are strong enough to hang plastic sheeting, yet remove cleanly without damaging the subsurface. The backing, typically crepe paper, can conform to curved and irregular surfaces. The tape hand tears for tool-free application.