Provides professional, industrial strength for demanding applications
Comes with a variable-width web spray pattern
High strength, fast, contact type adhesive
Bonds laminate, wood, concrete, metal, plastic and more
High temperature and moisture resistance
3M™ Hi-Strength 90 Spray Adhesive is an extremely versatile, fast-drying spray adhesive that bonds strongly to a wide range of materials. Our permanent bond provides fast results to keep projects moving ahead. The spray formula is easy to dispense, offering a variable-width spray pattern, and applies directly onto surfaces and materials where needed.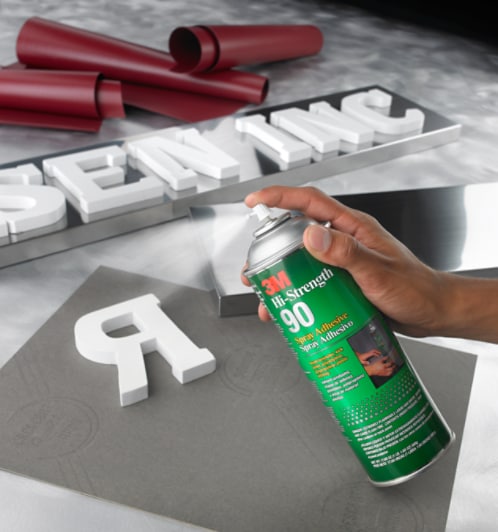 Dries quickly while allowing time to reposition your materials
Recommended Applications
General maintenance and repair projects
Attaching fiberglass insulation and drywall corner beads
Bonding thin films, foils and fabrics
Picture framing and mounting displays
Ideal for crafts and hobbies
Installing acoustic panels
An All-Around Adhesive
3M™ Hi-Strength 90 Spray Adhesive is capable of forming extremely strong bonds on a wide array of materials, including paper, cardboard, fabric and insulation. It also works well with plastic, metal, wood and much more.
3M™ Hi-Strength 90 CA Spray Adhesive- Low VOC <25%
is CARB compliant and eligible for LEED® credits. This spray adhesive has been proven to work well for projects both large and small, from crafting to construction.
Unlike any Glue
When 3M™ Hi-Strength 90 Spray Adhesive was designed, we aimed to overcome the obstacles faced when applying the existing glues on the market. By inventing what can be considered a unique "spray glue," 3M was capable of providing a self-contained adhesive solution that saves both time and money.