PTFE film provides a slick surface for general purpose, non-stick applications
Silicone adhesive provides clean removal from a variety of surfaces
Wide temperature range for performance on heated machinery and equipment
Thicker backing helps extend the service life over thinner versions when subjected to abrasion and wear
Skived 3M™ PTFE Film Tapes are more conformable than typical extruded PTFE film tapes
Chemical resistance enables tape to withstand many applications
Our 3M™ General Purpose PTFE Skived Film Tape 5181 uses a skived, polytetrafluoroethylene (PTFE), conformable film backing. This tape offers a low coefficient of friction which, in combination with a pressure sensitive silicone adhesive, provides a slick surface over a variety of substrates to assist in general purpose, non-stick applications requiring high temperature performance.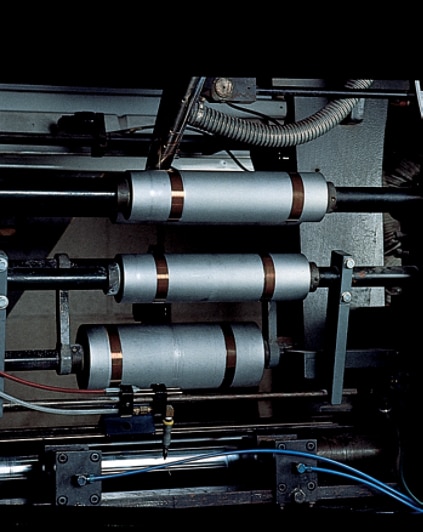 Conformable 3M™ PTFE Tape helps the movement of web materials in many types of roller wrapping applications
Improve Surface Movement
We developed this general purpose tape as a quick and easy solution to reduce friction between moving surfaces in non-critical applications. The skived backing provides good conformability when unwound from the roll compared to typical extruded PTFE film tapes. It functions as an anti-stick or easy-release medium between surfaces where pressure, temperature changes and other factors may create a measure of adhesion. Applying 3M™ General Purpose PTFE Skived Film Tape 5181 can help improve surface movement, eliminate squeaks and rattles, and reduce machine noise. PTFE is chemical resistant and can be used as a temporary chemical barrier. The tape has a wide temperature use range, from -65°F/-54°C to 500°F/260°C, making it suitable in a wide variety of applications.
Recommended Applications
General purpose roll-wrap for web processing
Squeak and noise reduction
Shielding and protecting against chemicals
What is PTFE?
Polytetrafluoroethylene (PTFE) is a synthetic material used in a variety of industries and applications to reduce the coefficient of friction. Because of its non-stick properties and high heat resistance, PTFE is used as a non-stick coating for frying pans and other cookware. It makes an excellent insulating material for electrical applications because of its non-conductivity. PTFE is non-reactive to numerous chemicals, due to the chemical resistance of fluoropolymer bonds; making it effective in containers and pipework for reactive and corrosive substances. PTFE reduces friction, wear and energy efficiency of machinery. Because of its low friction, PTFE is used in industrial applications where sliding action of parts is required, such as with bearings, gears, slide plates, etc. In these applications, it delivers significantly better performance than nylon or acetal. 3M has taken this versatile compound through an extrusion process to create a thin film, then paired the film with 3M's unique pressure sensitive adhesives to make these PTFE tapes. Innovative, high performance
3M PTFE tapes
are reliable, durable and reduce friction.
Find and Compare More Single Coated Tapes
(PDF, 26.9 Mb)
Fine tuning: Choosing among PTFE solutions
Lead Product
*
Meets many industry and customer specifications
TDS data as of August 9, 2016
Product
Construction
Process
Color
Data Sheet
Why choose vs other
products in the family?
Properties
Tape
thickness
(mm)

Adhesion to
steel
(N / 100mm)

Tensile
strength
(N / 100mm)

Liner

Elongation at
break (%)

Temperature
range (oC)
5490

*

PTFE/Silicone
Extruded
Gray
TDS
Thin,lies flat,elongation
0.09
29
385
N/A
150%
- 54C to 260C
5491

*

PTFE/Silicone
Extruded
Gray
TDS
Longer wear than 5490
0.17
38
700
N/A
200%
-54C to 260C
5480

*

PTFE/Silicone
Skived
Gray
TDS
Thin,> tensile than 549
0.09
22
473
N/A
140%
-54C to 260C
5481

*

PTFE/Silicone
Skived
Gray
TDS
Conformability, tensile
0.17
35
858
N/A
335%
-54C to 260C
5180
PTFE/Silicone
Skived
Gray
TDS
Economical, general use
0.09
28
525
N/A
100%
-54C to 260C
5181
PTFE/Silicone
Skived
Gray
TDS
Longer wear than 5180
0.17
39
1300
N/A
100%
-54C to 260C
5185
PTFE/Silicone
Skived
Red
TDS
Thin with high tensile
0.11
30
716
N/A
117%
260C
5498

*

PTFE/Rubber
Extruded
Brown
TDS
Non-silicone, adhesion
0.10
53
332
N/A
105%
4 to 149C
5451

*

PTFE/GC/Silicone
Brown
TDS
Excellent wear, cut resistance
0.14
31
1760
N/A
N/A
-73C to 260C
5453

*

PTFE/GC/Silicone
Brown
TDS
Longer wear than 5451
0.21
56
3065
N/A
N/A
-73C to 260C
5151
PTFE/GC/Silicone
Brown
TDS
Economical GC PTFE
0.13
36
1925
UVPC
Available
N/A
-73C to 260C
5153
PTFE/GC/Silicone
Brown
TDS
Longer wear than 5151
0.20
47
5075
UVPC
Available
N/A
-73C to 260C