Durable film backing is tear-resistant and provides a uniform finish
Flexible film sheet conforms smoothly to contours and rounded edges
Versatile abrasive suits many applications for woodworking and paint prep
Premium mineral delivers a faster cut and extended life
Load-resistant coating and open coat construction help prevent dust and debris from clogging the abrasive
We engineered 3M™ Film Roll 375L to deliver outstanding tear resistance, flexibility and consistent finish on a variety of substrates. The film backing conforms to contours and delivers a super smooth application that produces a highly uniform finish. Premium aluminum oxide grain offers a faster cut and extended product life over standard A/O mineral for greater productivity.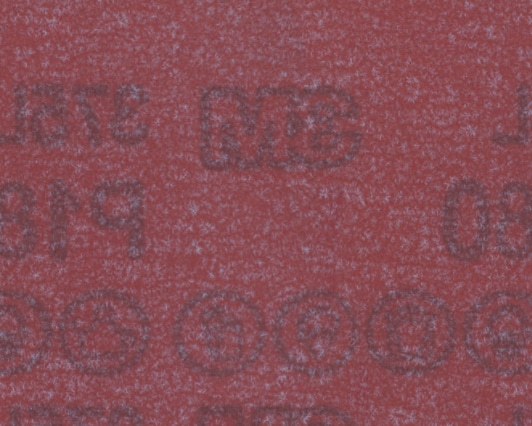 Durable film construction provides tear resistant properties
Tear-Resistant Film Achieves Superior Finish
3M™ Film Roll 375L is excellent for a variety of applications. For wood finishing, the 375L film roll in medium grades conforms well to the contours and rounded edges of challenging work surfaces to deliver a superior finish. Woodworking applications are further enhanced by a load-resistant coating and open coat construction, which reduce clogging and extend the life of the abrasive. For pre- and post-paint finishing, versatility is key, and our 375L film roll in fine grades is designed to deliver a superb uniform finish on plastics and clear coat technologies commonly used in the transportation industry.
Consistent Results on Many Substrates
Film-backed rolls have excellent tear-resistant properties and provide a very uniform finish and consistent results with each use. This makes them an excellent option when working on paint, e-coats, primers, gel coats, glass, acrylics and solid surface material, wood topcoats and anywhere else you need a quality every time.
Faster Cut, Longer Life
We use premium aluminum oxide abrasive mineral in the manufacture of our 3M™ Film Roll 375L. Aluminum oxide is a popular choice among industrial professionals because of its fast cut-rate and long life. This mineral makes a tough, durable abrasive that self-fractures to expose fresh cutting edges, whereas traditional natural abrasives dull more quickly. Due to its fast cut-rate, hardness, and strength, it is widely used in grinding applications in addition to sanding and finishing applications. Aluminum oxide is suitable for a wide variety of materials in both woodworking and metalworking, including ferrous alloys.
3M Technologies Deliver Optimal Performance
Our
3M™ Film 375L
(PDF, 3.31 Mb) line of products was created with our commitment to help our customers achieve superior productivity and performance while improving ease of use. Our 3M™ Film Roll 375L is a reliable, high-performing, and long-lasting solution for many different applications, and is a great example of how 3M technologies enhance industrial productivity. Designed as the ultimate versatile solution, 375L film abrasives redefine what's possible and deliver the superior sanding capabilities that 3M customers world-wide have come to expect.