Work in hard-to-reach areas with power and efficiency
Grind and blend on the arm contact wheel or hard platen surface
Finish and polish from slack of belt in the open section of the arm
High quality construction
Simple attachment to the 3M™ File Belt Sander makes changing arms fast and easy
The 3M™ File Belt Sander Attachment Arm is an essential piece for grinding, blending or finishing with your 3M™ File Belt Sander. This arm allows you to work in small, hard to reach areas, and is available in a variety of shapes, sizes and end wheel types, which will allow a variety of tasks to be accomplished with ease.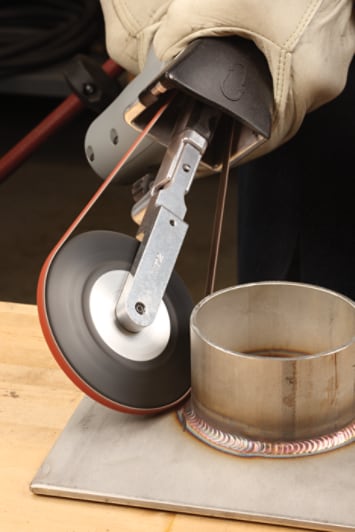 Access the tightest corners, tackle small welds and blend finishes
Inclusive Design
Available in a variety of shapes and sizes to accomplish a variety of tasks,
3M™ File Belt Sander
Attachment Arms allow grinding and finishing of many surfaces. Grinding and finishing may be accomplished by several user defined methods, appropriate for the application, using the contact wheel, platen, or slack of belt areas.
Commonly used with 1/2" x 18" abrasive or
Scotch-Brite™
belts, the file belt tool and attachment arms can be used to accomplish typical jobs such as spot weld grinding, seam sealer removal, edge deburring, and surface preparation. The file belt tool and attachment arms can also accomplish tasks typically performed by hand files, often faster and with better results, improving productivity and quality.
Learn about Attachment Arm Types and More Abrasive Accessories.
(PDF, 18.52 Mb)