Features 3M™ Precision-Shaped Grain, triangular-shaped grains that cut 30% faster than other premium abrasives
Grains expose fresh abrasive as they wear for 2x longer abrasive life vs. traditional abrasives
Sharper cutting surface means less pressure is required for reduced friction and wear
Clean Sanding multi-hole pattern delivers excellent dust extraction
3M™ Hookit™ hook-and-loop attachment makes for fast disc change-outs
Long lasting,fast-cutting abrasive disc is ideal for a range of jobs including paint removal and feather-edging
Our 3M™Cubitron™ II Hookit™ Clean Sanding Abrasive Discs 737U combines the highest 3M technology for automotive repair. Its long-lasting triangular shaped grain and multi-hole pattern for excellent dust extraction make the disc ideal for paint removal, rough body filler shaping, fine feather-edging or final prep before blending or priming. The 3M™ Hookit™ system makes for quick disc change-outs.
About 3M
™
Cubitron™ ​ II and Precision-Shaped Grain
3M™ Cubitron™ II products
have raised the bar for high-performing abrasives. They utilize 3M™ Precision-Shaped Grain (PSG), which outcuts and outlasts conventional ceramic industrial abrasives and requires less grinding force to achieve superior performance. The result is that operators can grind faster and complete more parts per disc.
To create PSG, 3M engineers used proprietary technology to form abrasive grains into triangular structures and electrostatically orient them on the backing to form sharp peaks that maximize cutting potential. These peaks slice cleanly through metal like a knife through butter, rather than gouging or plowing as traditional abrasives do. As the grains wear, they continually expose fresh, sharp mineral. As a result, PSG last 2x as long as conventional ceramic abrasives, ensuring extended high performance in production applications.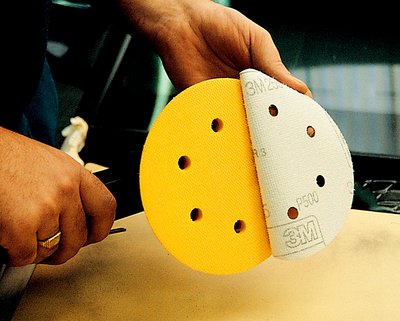 Hookit™ discs remove cleanly and easily. Photo representative of the Hookit system shown on another 3M disc.
About 3M™ Hookit™ Attachment
The 3M™ Hookit™ attachment system is designed for work spaces and applications where adhesive backed abrasives may become contaminated by dust, dirt or debris. It features a hook-and-loop function which makes disc attachment, removal, and re-attachment clean and easy. 3M™ Hookit™ abrasives have a loop backing of the type most commonly used in everyday hook-and-loop applications. It attaches to the small hooks on the backing of any 3M™ Hookit™ backup pad. It's simple: just attach the disc and start sanding. The disc removes just as cleanly and easily, and facilitates the use and re-use of the disc for maximum product life.
About 3M™ Clean Sanding
The multi-hole pattern on 3M™ Clean Sanding discs evacuates dust better than 5- or 6-hole products—significantly increasing cut-rate and disc life. When used with a 3M™ Clean Sanding Disc Pad, the disc holes do not require alignment with the pad holes, making switching the discs fast, easy, and convenient. You can also pair Clean Sanding abrasives with Clean Sanding disc pads for use on a central-vacuum-ready sander.