3M Precision Shaped Grain cuts fast and requires less pressure, helping to increase productivity
Tough, polyester backing withstands aggressive sanding and finishing
Durable resin bond resists deterioration from heat, extending the life of the abrasive cloth
Open coat construction and anti-static treatment help manage dust and loading
Product is water-resistant for use in either wet or dry applications
3M™ Cubitron™ II Cloth Belt 990FZ offers revolutionary performance with 3M Precision Shaped Grain on a tough polyester cloth backing. This high-performing belt is constructed with an open coat and an additional antistatic treatment to further prevent loading during use on wood. It can also be used in either wet or dry applications.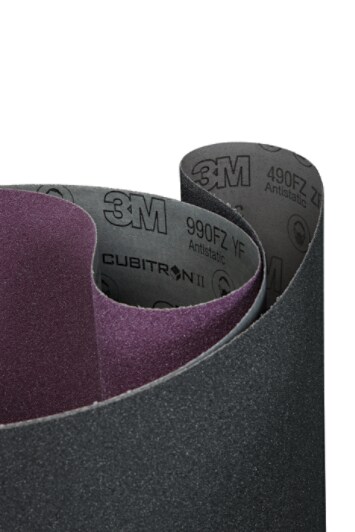 Precision shaped grain constructed on heavy duty cloth backing
High Quality Construction
Our 3M™ Cloth 990FZ is best suited for woodworking due to its durability and fast cutting abrasive material. Its tough, polyester cloth backing provides smooth operation and durability for consistent finishing. The abrasive side features an open coat construction and an anti-static treatment to help prevent debris from loading on the belt and limiting sanding ability.
Precision Shaped Grains
This belt uses revolutionary precision shaped ceramic grain to slice cleanly through wooden surfaces, rather than gouging or plowing as traditional abrasives do. This creates a super-fast cut and reduces heat build-up in the workpiece, reducing heat-related defects. Moreover, because the abrasive itself stays cooler and sharper, it lasts significantly longer than conventional ceramic grain belts, decreasing costs and reducing belt changeovers.