Ceramic aluminum oxide grain blend cuts faster and lasts longer than traditional aluminum oxide
Produces more parts per belt than traditional aluminum oxide belts, requiring fewer belt changes
Heavyweight polyester backing supports high-pressure applications and can be run wet or dry
Contains a grinding aid to reduce heat and increase performance when grinding stainless steel
Durable resin bond resists heat deterioration, which extends the life of the belt
Take advantage of increased durability and cutting efficiency with 3M™ Cloth Belt 777F. This belt features a blend of 3M™ Ceramic Abrasive Grain and aluminum oxide that outperforms aluminum oxide belts in stock removal and metal finishing applications. The heavyweight cloth backing supports high-pressure applications, performs well on heat-sensitive metals, and can be used dry or with lubricant.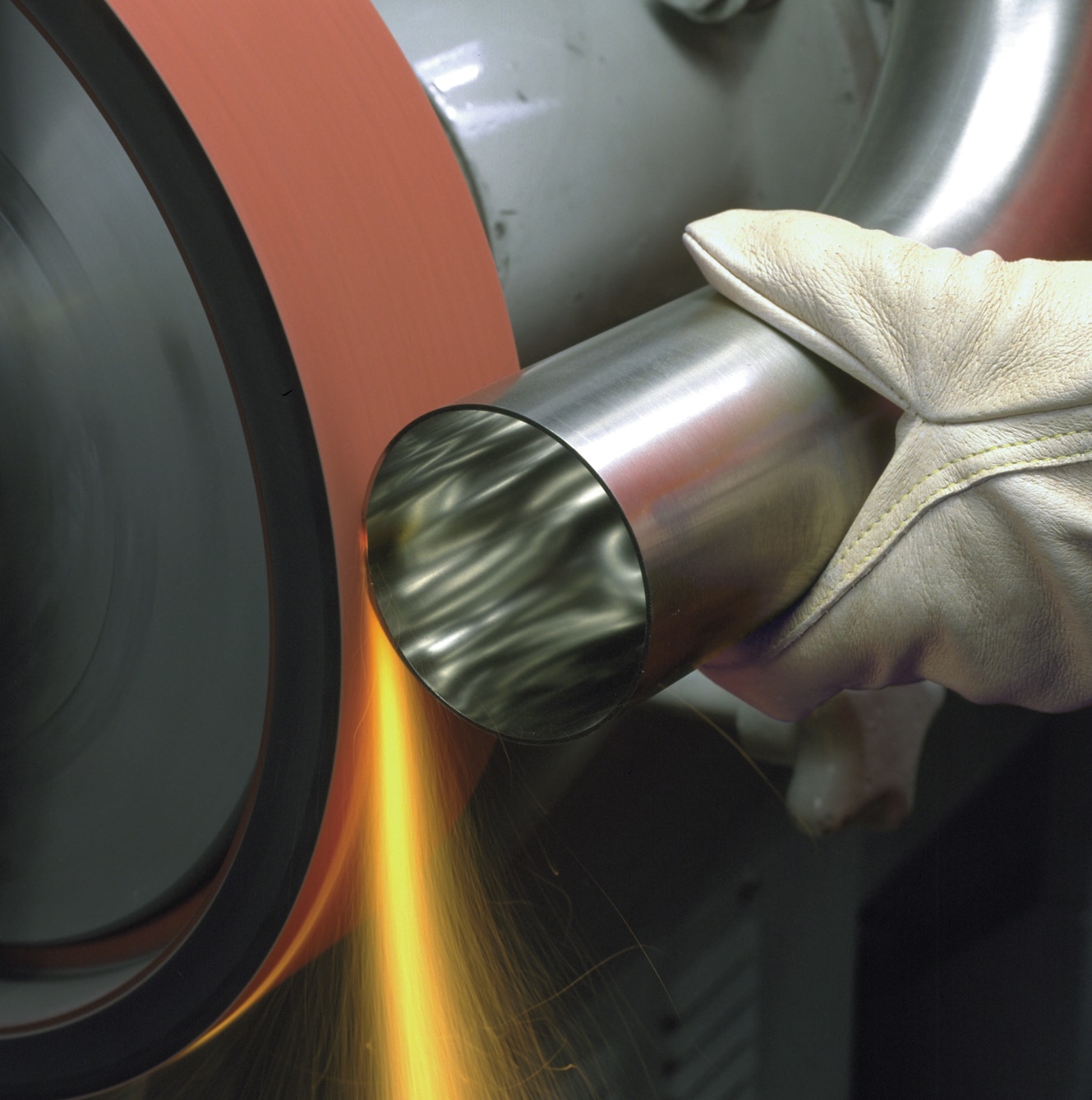 Grinding aid improves performance on stainless steel
Deburr, Blend and Finish Stainless Steel
3M™ Cloth Belt 777F contains a grinding aid that reduces running temperatures when used on heat-sensitive alloys like stainless steel, nickel alloys and cobalt alloys. The abrasive grain is bonded to the backing with resin to maintain durability under high heat and pressure. This belt is recommended for use on stainless steel or other exotic metal alloys for dimensioning parts, deburring, blending, and finishing castings and forgings.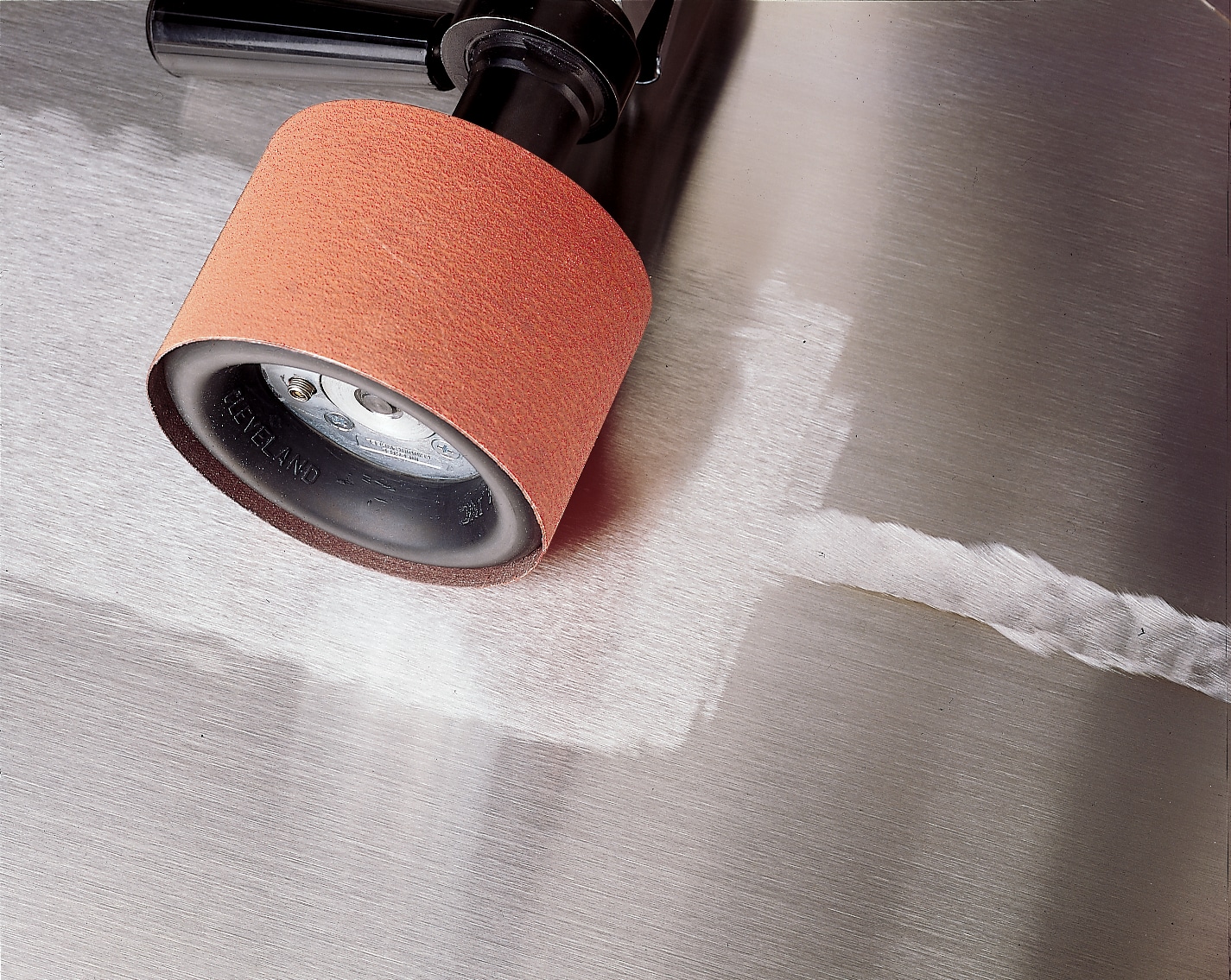 Can be used to add a grain pattern on stainless steel
Ceramic Abrasive Grain Boosts Performance
For increased performance, 777F products feature aluminum oxide blended with 3M ceramic abrasive grain for a harder, longer-lasting abrasive. Ceramic/aluminum oxide blend surpasses aluminum oxide abrasives in cut-rate and durability and makes the Cloth Belt 777F an excellent choice for moderate stock removal and surface preparation.

Sized to Suit Your Needs
These abrasive belts are available in various widths and lengths for sanding both wood and metal. 3M offers a broad selection of belts to fit most any industrial belt sander. Wider belts are used with wide belt sanders to dimension or finish wood panels, smooth rough-cut edges of metal sheets, or add a grain pattern to stainless steel sheets. Medium-width belts fit onto edge sanders for sanding flat, narrow surfaces such as panel edges; and narrow belts are used with portable belt sanders for sanding or blending wood pieces such as cabinet doors.

Find Your Flex
Belts come with various flexibilities and splices that join the belt ends. 3M™ Cloth Belt 777F has a film splice for added strength when grinding in high pressure applications. When greater flexibility may be needed to increase conformity or for a softer touch for finishing and blending, an L-flex provides more flexibility than the standard flex, and a fullflex belt is the most flexible.

Applications
Moderate stock removal
Deburring stainless steel
Finishing stainless steel
Surface preparation