Flow rate of 20 gallons (75.7 liters) per minute for homes and commercial buildings
Built-in shut-off valve
Manufactured from FDA CFR-21 compliant materials
Clear housing for easy viewing of cartridge
Easy, time-saving filter cartridge replacement
The Aqua-Pure™ Whole House Water Filtration System reduces sediment or chlorine taste and odor (cartridge dependent) to help provide cleaner, clearer water by filtering out sediment and other contaminants from the water used throughout your entire home.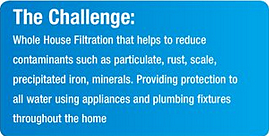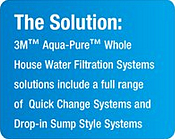 The 3M Aqua-Pure™ Water Filter System is an ideal whole-house water-filtration system for larger homes and commercial buildings. It reduces particulate, rust, and the taste and odor of chlorine, improving the quality of cloudy, colored or musty water. By improving the clarity, taste, and odor of tap water, it provides an economical alternative to bottled drinking water. The filter system provides a heavy flow rate and is simple to install.
Used for Larger Homes and Commercial Applications
The whole house water filter system, manufactured by 3M Purification Inc., formerly CUNO Incorporated, is for larger homes and commercial applications. Installed at point-of-entry, the water-filtration system has a single vessel design with 1-inch inlet and outlet ports. The system provides a flow rate of 20 gallons (75.7 liters) per minute. It operates at water pressures up to 100 psi (690 kPa) and operating temperatures up to 100°F (37.8°C). A pressure relief button is incorporated into the system for ease in cartridge replacement. 3M recommends replacement of the filter cartridge every six months at a minimum and regularly scheduled maintenance in order for the product to perform as advertised. The disposable filter cartridge must be replaced sooner than six months if a noticeable reduction in flow rate occurs. It should not be used with water that is microbiologically unsafe or of unknown quality without adequate disinfection before or after the system.