Cartridges hold Mix-on-Demand aerospace sealant base and catalyst separately until ready to dispense
Cartridge design helps eliminate air and pinholes in dispensed Mix-on-Demand sealant
Industrial plastic cartridge is durable for repeated use
Secure fit for trouble free work
Level indicator allows operators to monitor usage
3M™ Aerospace Sealant DMS Reusable Cartridges are reusable, industrial plastic containers that hold the 3M Mix-on-Demand Sealant base pack and the catalyst stick. Simply insert each component into the appropriate side of the cartridge, attach it to the Dynamic Mixing System (DMS) dispenser and go to work. The durable cartridge fits onto the DMS dispenser and helps eliminate air as it mixes.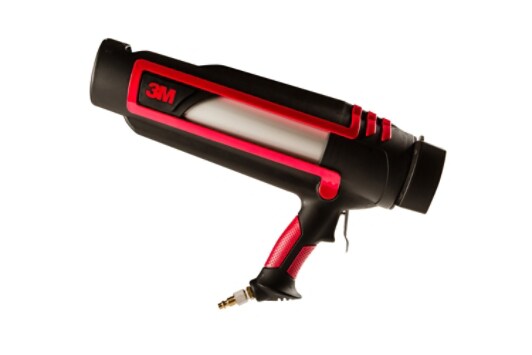 3M™ Dynamic Mixing System Applicator
The Applicator — Feel the Power
Careful, when you grab hold of the Mix-on-Demand System, you may not want to let go. Our easy-to-use device is ready when you are. Don't worry, its heavy-duty construction stands up to demanding performance, day in and day out. Pneumatically driven, it's the power tool that helps you do more — with game-changing results.
Mixing Nozzles — Air not Included
Goodbye popping, hello perfect mix ratio! Our innovative mixing nozzle blends components at a fixed ratio, ensuring a consistent end product. The secret to success with the 3M™ Mix-on-Demand System lies in the action in the dynamic mixing nozzle. Within this sealed environment, no air is allowed to enter the nozzle. The lack of air in the cartridge and mixing
Cartridges — SOS! (Save our Sealant!)
Now you don't have to buy sealants knowing much of it will go to waste. By allowing you to mix only what you need when you need it, our Mix-on Demand System reduces the customary product waste you simply had to accept.
Mix-on-Demand Sealants — 3M Science Applied to Aerospace
When you use 3M Sealants, you're applying science, ingenuity, aerospace expertise and cost saving solutions. Depending on your requirements, our family of sealants provides an effective barrier against the common causes of corrosion on aluminum and between dissimilar metals. They have outstanding resistance to aviation gasoline and jet fuel, as well as resistance to chemicals, hydraulic fluids and petroleum products common to the aircraft industry. The mixed compound is a thixotropic paste, easily applied using the 3M Mix-on-Demand System. This system will prove its worth again and again when workers mix the sealant they need, when and where they need it without stopping to mix full cartridges, waiting on thawing or making another trip to the freezer. Always read the SDS and Tech Data Sheet along with your internal governing documents prior to use.