Sealant resists aviation fuels and chemicals commonly used throughout the aviation industry
Various work lives and cure rates help meet a variety of process demands
Available in Class A and B to meet a range of requirements
Maintains bond strength on many metal, composite and coated substrates
Low shrinkage results in less rework
3M™ Aerospace Sealant AC-360 is a family of intermediate density, manganese dioxide cured, polysulfide fuel tank sealants that cure rapidly and provide outstanding resistance to aviation fuels and petroleum chemicals. Our Class A and B variants maintain bond strength on many metal, composite and coated substrates and help meet a range of applications for integral fuel tank and fuselage sealing.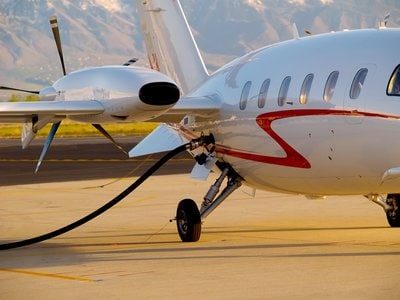 AC-360 is 15% lighter than conventional fuel tank sealants
The 3M™ Aerospace Sealant AC-360 family of manganese dioxide cured polysulfide sealants provides a number of advantages and benefits compared to traditional sealants. Two classes, multiple work lives and rapid cure times help meet a wide range of manufacturing and maintenance needs.
Class Distinction
When our Class A version is mixed, it provides a smooth pourable liquid that spreads evenly with a brush or roller to cover large areas quickly. Available with a two hour work life, 3M™ Aerospace Sealant AC-360 Class A gives you ample time for application while its rapid cure keeps your processes moving forward.
Our Class B version mixes to a thixotropic paste that provides superb tooling properties when applied by injection gun or spatula. 3M™ Aerospace Sealant AC-360 Class B has no added solvents, which gives you more sealant by purchase volume and reduces the need for rework due to shrinkage. Available in two work lives, with rapid cure times, AC-360 increases your workflow flexibility.
When used together, our Class A and B variants are ideal for sealing and/or repairing integral fuel tanks and sealing fuselages.
Product
Class
Application Life*
Typical Tack Free Time*
Typical Cure Time*
(30 Shore A Hardness)
Specific Gravity
Applications
3M Aerospace Sealent AC-360
B-1/2
1/2 hour
2-3 Hours
2-3 Hours
1.40
High Temp Fuel Tank 3M-Mix-Dispense-Equipment-Dispensers-and-Accessories Fuselage
B-2
2 hours
8hours
8hours
*Measured at Standard Conditions (77°F / 25°C and 50% Relative humidity )
Use with:
Smart Sealants, Robust Results
When you use
3M Sealants
, you're applying science, ingenuity, aerospace expertise and cost saving solutions. They have outstanding resistance to aviation fuels and chemicals common to the aircraft industry. 3M™ Aerospace Sealant AC-360 is carefully formulated for customers in the aerospace industry. Always read the SDS and Tech Data Sheet along with your internal governing documents prior to use.
Our Best for Your Best
3M is proud to partner with organizations across the spectrum of aerospace and related industries. Enabling efficiencies, reducing process times and lowering aircraft weight is how we execute our never-ending mission to offer best-in-class adhesives, sealants, surface protection products and composite resins that effectively reduce costs on multiple fronts. Professionals across the industry know the numerous advantages of
3M Aerospace
. Our brand is widely recognized for the highest standards of quality and performance, adding value to the final results. By engineering reliability, longevity and value into all of our products, we have a history of saving money by reducing waste, rework and time.