Creates thin seams without screws, rivets, bolts or zippers
Acrylic adhesive holds on contact and offers good resistance to plasticizers
Withstands typical outdoor temperature, humidity and ultraviolet exposure
Durable polypropylene hooks stand up to thousands of opens and closures
Fast, convenient fastener for signage, point of purchase displays, and graphic attachments
3M™ Hook Fastener SJ3506 is one part of a durable, two-part fastener solution that offers design flexibility, fast product assembly, smooth and clean exterior surfaces and improved product performance. 3M™ Loop Fastener SJ3507 is the suggested mating loop.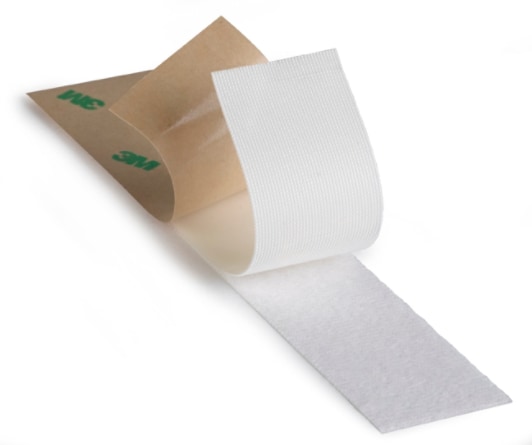 Hook SJ3506 and Loop SJ3507 engage to form a quick fastener
Durable Polypropylene for Thousands of Openings and Closings
3M™ Hook Fastener SJ3506, when combined with
3M™ Loop Fastener SJ3507
, engages to form a quick fastener that has very thin bond lines. These hook and loop fasteners are widely utilized for graphic attachment, signage, electronics, medical and general industrial operations when securing surfaces that can be unfastened and refastened.
Recommended Applications
Replacement for string, tape, rubber bands, wire and strapping
Hang graphics and banners that change frequently
Point of purchase displays
Signage
Graphic attachments
Pressure Sensitive Acrylic Adhesive Holds on Contact
The acrylic adhesive on 3M™ Hook Fastener SJ3506 offers good adhesion to a variety of substrates while offering resistance to environmental influences. The pressure sensitive acrylic adhesive is ideal for indoor/outdoor use and bonds well to paper and cardboard, paint, bare and painted metal, glass, sealed wood, and many plastics.
Using a pressure sensitive adhesive eliminates or reduces the need for sewing, solvent activation, dielectric or ultrasonic bonding or bulk adhesive bonding. Eliminating these application procedures creates simplicity, improves safety and helps lowers installation costs.
Bringing Better Ideas to the Surface through Science and Innovation
In our 3M Industrial Adhesives and Tapes Division, we apply the science of adhesion to deliver innovative solutions that improve the design and manufacturing processes of companies around the world. In the end, our technologies help customers like you deliver competitive products to the market faster and more efficiently.
For more information on 3M fastener solutions, please refer to our :
3M™ Reclosable Fasteners Design Selection Guide
(PDF, 1.3 Mb)