Wheel edge can be dressed for effective deburring, finishing and polishing of all metal alloys and many plastics and composites
Tough, layered, unitized construction can operate clockwise or counterclockwise directions
Densities and grades ranging from soft and conformable to hard and aggressive offer utility for a wide variety of applications
Resists smearing for cleaner surfaces and less preparation
Minimizes heat build up to lessen impact on heat-sensitive materials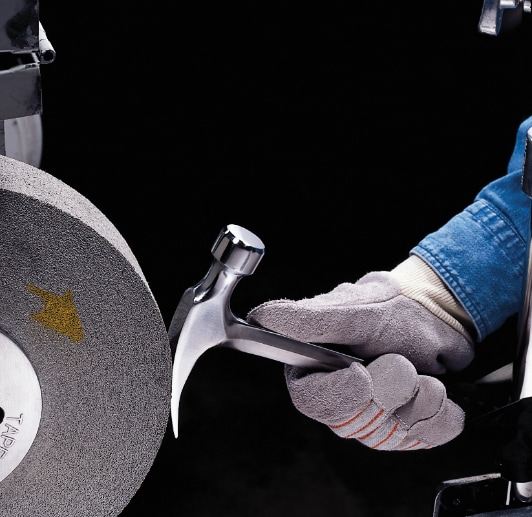 A convolute-constructed wheel offering mid-range aggressiveness and hardness for deburring, edge radius, blending, polishing and finishing
Our high performance combination of mineral (aggressiveness) and density (hardness) make the Scotch-Brite™ EX2 wheel uniquely suited to applications where a moderate degree of conformability, wheel hardness, and edge retention are needed. A unique resin system helps minimize smearing and reduces heat build-up. The EX2 Deburring Wheel runs cool and resists loading due to its open-web construction. We did this to reduce the risk of part discoloration and warping, while extending the life of the wheel. The EX2 Deburring Wheel is available in fine and medium grade abrasives.
Available in Two Mineral Types
Our Scotch-Brite™ EX2 Deburring Wheel is available with silicon carbide or aluminum oxide abrasive mineral. Silicon carbide is a synthetic mineral that is very sharp and commonly used for low-pressure applications such as paint prep and finishing. Aluminum oxide is a hard, blocky mineral that provides high cut-rate and long life. While silicon carbide breaks down faster than aluminum oxide, it produces a finer finish.
Wheels
Substrates
Scotch-Brite™ Abrasive Products
Stainless Steel
Titanium
High Nickel Alloys
Metal Alloys
Plastics
Composites
Cobalt Chrome
Titanium
Zirconium
Scotch-Brite™ EXL-XP Deburring Wheel
X
X
X
Scotch-Brite™ EXL Deburring Wheel
X
X
X
Scotch-Brite™ EXL2 Deburring Wheel
X
X
X
Scotch-Brite™ EXL3P Deburring Wheel
X
X
X
X
Scotch-Brite™ Light Deburring Wheel
X
X
X
X