Self-sharpening pyramids start sharp, stay sharp, and run cooler than conventional abrasives
Flexible backing flows over contoured surfaces for consistent finishing
Ideal for intermediate finishing and fine polishing prior to plating or buffing
Produces finer finishes than conventional electrostatically coated abrasives
3M™ Trizact™ Cloth Belt 307EA uses our proprietary microreplication technology where micron-graded aluminum oxide particles are formed into tiny pyramids of abrasive mineral and then coated on a rayon backing. As these pyramids wear, fresh, sharp mineral is continually exposed to produce a consistent cut and a predictable, fine finish.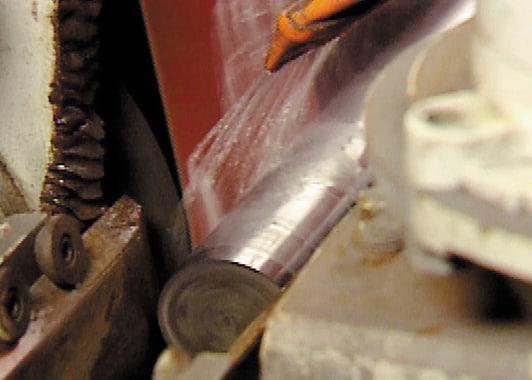 Stainless steel finishing application
Controlled Breakdown, Medium Pressure
The abrasive and resin structure for the 3M™ Trizact™ Cloth Belt 307EA is formulated to break down under medium pressure and keep fresh, sharp mineral cutting to provide consistent finishes on hard metals such as carbon and stainless steel. The belt also features a grinding aid that helps prevent heat buildup, warping and discoloration.
The belt is constructed on a durable cloth backing that helps provide control, conformability and effective medium-pressure grinding. The resin bonded abrasive gives you greater heat resistance and helps prevent delamination.
Smooth Running, Fine Finish
The belt uses a Film Media Splice, a strong secure bond joining the belt ends, consisting of a thin film-joining media that minimizes "chatter marks," ensures a smooth running belt, and consistent finishing results. When compared to conventional abrasive products, proprietary Trizact™ abrasives produce a finer finish, achieve results faster, and last longer.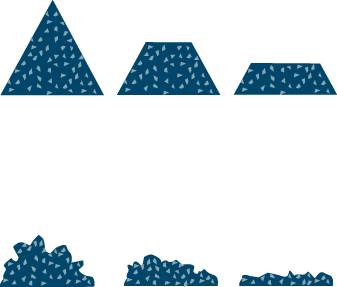 As 3M™ Trizact™ "pyramids" wear, fresh abrasive mineral is constantly exposed to the workpiece, resulting in faster, more consistent cutting throughout the life of the belt versus the uneven wear of conventional abrasives.
The Trizact Advantage
Unlike conventional abrasives, our line of 3M™ Trizact™ belts start sharp and stay sharp, resulting in more predictable finishes and improved, consistent quality. 3M™ Trizact™ belts can last up to five times longer than conventional belts and provide precise finish control such that operators can reduce grade sequences, requiring fewer process steps and fewer abrasive products.
Three-dimensional structures uniformly distributed over the entire surface of 3M™ Trizact™ abrasives ensure consistent performance and eliminate part to part variation.